JUST AN ADVERTISEMENT
CONTINUE READING BELOW
Do you find it difficult to promote affiliate links and want to know how to promote affiliate links for free?
In this article, I promise that I will tell you the best ways to promote affiliate links for free. And also the places where you can promote your affiliate links or products.
I have been doing blogging and digital marketing since 2017. And till now I have gained very much experience in affiliate marketing. From my experience, I will tell you the best and most effective ways to promote affiliate links for free.
I know that many of you have been using some ways to promote your links and many did not get results also with those methods.
But try these methods as I have personally used them and got results too. You too will definitely get results.
Best Ways to Promote Affiliate Links for Free
Comparison of Content
You can compare 2 or 3 or more products at a time and provide the affiliate links there.
Now your audience or consumers will decide which product they like and want to use.
Suppose I want to promote website hosting services like HostArmada, I will create a comparison content comparing some Hosting provider websites like Hostinger, HostArmada, FastComet, BlueHost, DreamHost, etc.
Like HostArmada vs Hostinger, HostArmada vs BlueHost or HostArmada is better than Hostinger and Bluehost?
I will provide a complete overview of the topic and put emphasis on the product which you are promoting.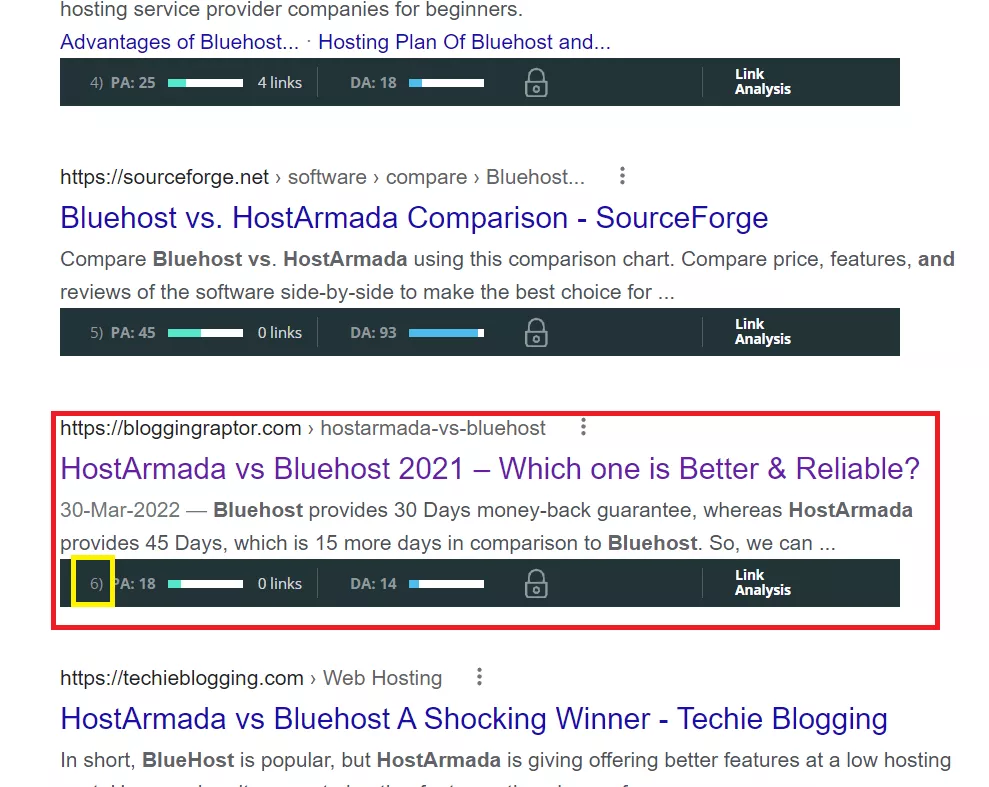 For example, some time ago, I had written an article comparing HostArmada vs BlueHost, and that article is ranked in the top 10 positions of Google SERPs on different keywords.
Review Contents
It is the best way to Promote Affiliate Links for free.
Many people search on Google or Youtube for reviews of the products because everyone wants the best product and before buying they want to know whether the product is reliable, good, or not.
Suppose anyone wants to buy a hosting service to host their website, they search in Google or Youtube Best Hosting reviews or if they are finding for a specific product like HostArmada then they will search for HostArmada Review.
Now to create a review content, suppose you are promoting HostArmada, find the top review on Google or YouTube of HostArmada, and grab the points they have discussed and reviewed. Now compile all of them and you are done.
You have your review content, now place your affiliate link and promote it for free.
Listicle Contents
It is a helpful method to Promote Affiliate Links for free. As many people search for a List of Top 5s and a List of Top 10s or similar products.
Suppose you are promoting web hosting services then you can create content like Top 10 or Top 20 Hosting Services.
For example, there is an on Blogging Raptor Blog, 31+ Best Web Hosting Services of 2022 (Compared & Reviewed) where I have given a short review of each hosting company and also placed an affiliate link there.
So if anyone buys hosting from my link, I will get commissions.
Another article is on 11+ Best Crypto Exchange in India with Low Fees (Reviewed).
Remember, in a listicle, the more products in the list you provide more the chance of getting a higher rank in Google. And also continuously update the article every 2 to 3 weeks as updated listicles are more often to rank on Google.
Tutorials
Another best way to Promote Affiliate Links. And try to do it in video format as it is very convenient and convincing too.
Suppose anyone buys a new hosting from Hostinger and he does not know how to install WordPress on it, then he/ she will search how to install WordPress in Hostinger H-Panel.
JUST AN ADVERTISEMENT
CONTINUE READING BELOW
For this, you can create a guiding video showing how you can do the task and also promote the product and place your affiliate links there too, and by chance, he shares the video with another person who is going to start a website or buy hosting, then he may do that from your link.
Remember that in name of Tutorials you do not just promote the product, your content should have a complete tutorial on the topic.
Email Marketing
It is used to do very targeted promoting.
If your audience is interested in your niche then you can promote the products to them personally in their emails through email marketing as there is a high chance that they will buy the product as they are already interested.
For Email Marketing you need to have email lists that you can easily collect by using newsletters.
Here is a detailed guide on 15+ ways to build an email list from scratch for free.
Remember that you follow the ethics of emailing and just do not spam the inbox as every time it will not go into the inbox of the subscribers.
It is recommended to only give the information of the major offers of the product.
Promote with Your Services
Suppose you are a freelancer, web developer, or other working related to websites, and you get a client who wants a WordPress website then you can ask him or recommend him to buy a hosting.
In this, you will share your affiliate link of the product and ask him to purchase it.
If he buys from your link then you can give him some special offers or discounts.
I had done this many times as we get a minimum commission of 50$ for every referral, and I tell them that if they purchase hosting from my affiliate link then I will create your website for 80$ instead of 100$.
And sometimes I install premium themes for free on their websites.
In this way, you can promote affiliate links and earn a commission along with your freelancing work.
Social Media
Suppose you have got news of new or upcoming or recently launched offers then you can immediately share it on your social media among your followers or you can create a video on the offer or write an article on your blog.
In this, you have a higher chance to get success as if anyone is searching for any offers related to the products and he lands your content then he may use your affiliate to purchase the product.
But you may need to stay alert and active to get the latest offers updates.
Creating Own Offers
You can create custom offers for your customers.
Suppose you are promoting any hosting then you can also offer your customers that if anyone buys hosting from your link then you will give them a special product absolutely for free.
The special products can be anything.
Like if you are promoting Hostinger, then you can tell that if anyone buys hosting from my affiliate link then you will give them a special blogging kit.
That will contain a WordPress theme, important plugins, and a small mini course related to digital marketing.
Digital Content
Suppose you are selling an E-Book or an online course where you are telling about how to do blogging.
Then in that e-book or in the course, you can Promote Affiliate Links for free by telling the students about the benefits of the products you are promoting.
Or if selling the course then you can recommend the student to use that product only, as in the course that product will be used to demonstrate the tutorials.
Or you can have a separate topic in the course demonstrating the use of the product.
JUST AN ADVERTISEMENT
CONTINUE READING BELOW
Paid Ads
I was not going to tell you about this but you should have a brief overview of the topic.
You can promote your affiliate links by running a paid advertisement on different social media with the use of advertising platforms like Google Ads or Facebook Ads or Microsoft Ads.
You need to invest some money to get results from it.
Something to be noted is that you cannot run any advertisements directly using the product's name. It is not ethical.
Instead, you can create any type of content like comparisons or reviews or listicles and then do advertising for that content, and it would be highly convertible.
Alright, we have discussed some ways through which you can promote affiliate links, but now let's talk about where you can promote it for free of cost.
Where to Promote Affiliate Links for Free?
There are many places where you can promote Affiliate Links for Free. But from my experience, there are very few places where you can promote your affiliate links effectively and get paid.
Let me tell you the 5 best places where you can promote your affiliate links effectively.
YouTube
YouTube is a video-sharing platform. And most of you have seen me on YouTube too. Here you can create video content for most of the methods of promotion. Like comparison content comparing 2 products, make tutorials on the product and other too.
The pros of the platform are that it is completely free and here if you gain a number of followers then you can get paid for advertisements on the video.
You can share your affiliate links in the description of the youtube video or in the comment section and pin it.
Remember to create an interesting and engaging video by using some great editing skills.
Website
You can publish content in written form. Here also you can create any type of content for promoting your affiliate links.
Creating a website is not completely free but you can go the Google's own CMS platform Blogger. It is completely free and you will get a subdomain of .blogspot.com.
Or if you want to start a WordPress blog then I will recommend you to read my blog post on How to Start a Successful Blog step-by-step.
And if you don't want to use that subdomain you can go to another subdomain .eu.org which is also free.
You can check out this guide on How to Get Free Eu.org Domain and Connect to Blogger.
Emails
You can mail your email subscribers about the product or tell them about the latest offers on the products through email.
For emailing you need to get the emails of the consumers. For collecting emails you can use Newsletters or follow my email list building guide.
Newsletters are the best of the best ways to collect emails from people. You can do it by promising something that they will get when they subscribe to your newsletters.
Like I have done. If anyone subscribes to Blogging Raptor's newsletter then they will get WordPress Theme NEVE with its original license key for absolutely free.
Also, here are some other professional ways through which you can monetize your email list.
Advertisements
Advertisements are paid mostly but it is not necessary to promote your products through Google Ads or Facebook Ads only.
You can contact people for mutual exchange of advertisements. They will advertise your products and you will advertise their products.
Social Media
Social Media is the place where you can share any offer of the product with your affiliate immediately.
Suppose any offer comes and you share it with your audience immediately then you will have a high chance that your affiliate will be used to purchase the products.
But remember that the product is relevant to your audience too. Suppose your audience is for digital marketing and you are promoting a face wash. You should not do this.
I have a telegram group related to digital marketing and making money online where I promote different offers and deals occasionally.
JUST AN ADVERTISEMENT
CONTINUE READING BELOW
Final Words
So these were some ways to Promote Affiliate Links for free and also I told you where to Promote Affiliate Links for free.
I told you about types of content that you can create to Promote Affiliate Links for free.
Types of content that you can create and which I personally use are:
Comparisons
Review
Listicles
Digital Products
Tutorials
How to
Best Deals
Discounts
Upcoming Offers.
Some places where I promote my Affiliate Links are
Youtube
Blogging Raptor Blog
Instagram
Telegram
Facebook
If you are doing a promotion through an article or website then do not forget to do SEO of the article. Because the article needs to rank in Google to traffic and get a commission from your affiliate link.
Affiliate marketing can generate much more income than a nine-to-five job will generate but need to do with a correct strategy and methodology.
If you liked this post, I will be very grateful if you help us it spread by sharing it with your friends and in blogging groups. Thank you!
More such useful and interesting guides will be coming, so make sure you bookmark our website by pressing CTRL+D