HostArmada vs Bluehost 2021 – Which one is Better & Reliable?
HostArmada vs Bluehost, many of my blogger friends and some of my blog readers have asked me which one is better between Bluehost vs HostArmada. So I thought I should share an article on this 
I have used both of them in my 4 years of blogging career, I'm still using Bluehost for 2 of my websites for more than two years and HostArmada's Speed Reaper Plan for around 1.3 years.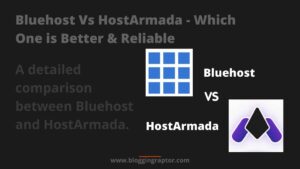 HostArmada vs Bluehost

So, I will share some of my experience of using both of these companies on the basis of their-
Customer Support

User Reviews

Server Locations

Uptime & Speed

Pricing

Features

Money-Back Guarantee
So, now let's begin the comparison between Bluehost & HostArmada.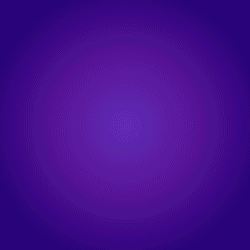 Customer Support
Well there is no such difference in customer support between both of these, as
But if you are new or intermediate, then I will suggest you go for HostArmada as its plans are cheap or equal to Bluehost and it also offers a lot more features but in comparison to their customer support, HostArmada is on top.
But also using HostArmada Speed Reaper plan for 1.3 years and it's working perfectly ✅, the average site's speed is around 300ms-400ms, the uptime (since the site started) is 100%, not get any issue till now, their customers support is doing a wonderful job and fast too.
A week ago I also checked HostArmada Reviews on TrustPilot (4.9 out of 5), HostAdvice (9.9 out of 10), and on Google Reviews (5 out of 5).
It also gives 45 days money-back guarantee. If you didn't want to use their services, then you can get a 100% refund without any cancelation charges. Whereas Bluehost offers 30 Days Money Back Guarantee.
So, I will definitely recommend it ?, it doesn't mean Bluehost is bad, it's also an amazing company for beginners, but in comparison to HostArmada, I will prefer HostArmada.
User Reviews

Talking about user reviews, HostArmada is again ahead of Bluehost, well for this I went through two different customer review platforms (Host Advice & Trustpilot) and what I found is you can see in the below images.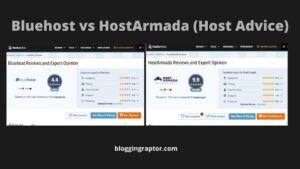 HostAdvice Reviews
As you can clearly see that on HostAdvice.com Bluehost got 4.4 ratings out of 10, whereas HostArmada got 9.9 ratings out of 10. So, here HostArmada is clearly ahead of Bluehost.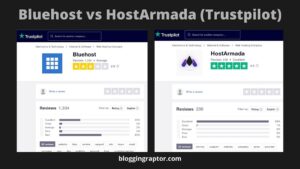 Trustpilot Reviews
On the other hand on Trustpilot.com, users gave 2.9 ratings out of 5 for Bluehost, and 4.9 ratings out of 5 for HostArmada. Here again, HostArmada is ahead of Bluehost.
Now let's see the server locations or data centers of these two companies, First, let's see the data centers of Bluehost.
Bluehost Server Locations or Bluehost Data Centers.
Provo, Utah, USA

Orem, Utah, USA

Mumbai, India, Asia

London, UK, Europe

Hong Kong, China Center

Shanghai, Mailand China
HostArmada Server Locations or HostArmada Data Centers
Fremont, CA, USA

Dallas, TX, USA

Newark, NJ, USA

Toronto, ON, Canada

London, UK, Europe

Frankfurt, DE, Europe

Mumbai, India, Asia

Singapore, SG, Asia

Sydney, AU, Australia
Uptime & Speed
Talking about uptime, I won't face any downtime till now from any of these companies, the uptime of my websites on these companies is 100% since I started my websites. 
But as per speed Bluehost, the average speed is between 400ms – 450ms till now.
whereas HostArmada's average speed is between 300ms – 400ms till now.
Pricing
Features
The overall basic main & common features provided by these two companies are,
Free 1 Year Domain

Free SSL Certificate

Free CDN

Free Emails 
Money-Back Guarantee
Both companies provide good money-back guarantees. So, that we can try their plans and features for some time and if we don't like their services or the services are not up to the mark then we can simply apply for money back and the company will refund 100% back to us. 
Bluehost provides 30 Days money-back guarantee, whereas HostArmada provides 45 Days, which is 15 more days in comparison to Bluehost. So, we can try or test HostArmada services for an extra15 days in comparison to Bluehost.
Conclusion
As I'm using Bluehost for 2 years and from Feb. 2020 I'm using HostArmada, and I personally like HostArmada services in comparison to Bluehost. But it doesn't mean Bluehost is not a good company if you are looking for an old and established company then you can choose Bluehost.
I'm recommending HostArmada, because of its speed, features, and customer support. Also as we discussed earlier in this article about customer reviews, people gave ratings of 4.9 out of 5, and 9.9 out of 10, which clearly states that HostArmada is really a good option to choose.
One more thing.
If you are planning to purchase any hosting from HostArmada, Bluehost, or Hostinger, then don't forget to contact me on Instagram / Telegram @bloggingraptor
I will help you to get an extra Flat $20-$25 OFF on any hosting plan ?
So, I hope this article was somehow helpful to you and you are able to make any decision, if you liked this article then don't forget to share it with your blogger friends so that they also get benefit from this, and if you have any query related to this article you can ask below in comments section or message me on Instagram / Telegram @bloggingraptor.
Don't forget to subscribe to our newsletter to get the latest updates of our all-new articles and tips straight into your mailbox for free.!!