Are you stuck in finding how to build an email list from scratch and for free? or do you want to grow your email list?
Then not to worry as in this particular blog post I'm going to share my personal ways and some of the expert ways that will surely help you in collecting new emails very quickly!
Digital marketing is growing very quickly, as people taking their offline business online, especially after the pandemic situation all over the world.
Business owners want to grow and build their online presence too so that they can promote their business and generate more profits.
And email marketing plays a crucial role here as if any user lands on your website it means he/she is interested in your services, it may be a blog or business website.
And if somehow you get their email details then you can promote your services to them in the future, and the chances of conversion will be high as they are already interested in your services.
But, to do so you need to collect their emails, and it's not that much easy as nowadays people get hundreds of promotional and spammy emails every week, so they don't give you their contact email easily.
So, in this blog spot, I will share some experts and my own personal email list-building strategies that you can apply to your blogs or business websites to collect people's emails and grow your email list.
JUST AN ADVERTISEMENT
CONTINUE READING BELOW
How to Build an Email List from Scratch and Free
Create a Newsletter Page
I won't talk about this way in detail as this is one of the most used traditional ways and very effective too.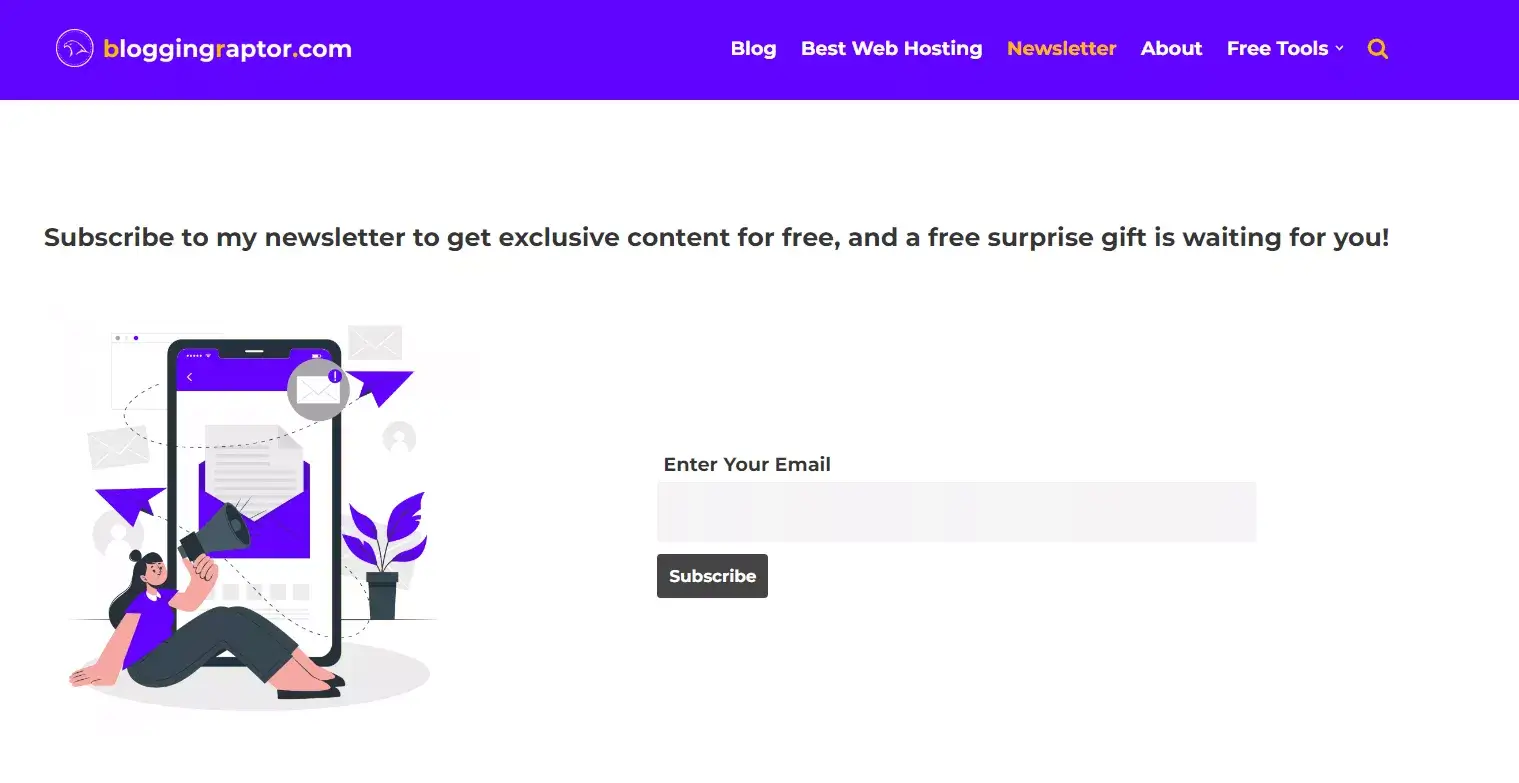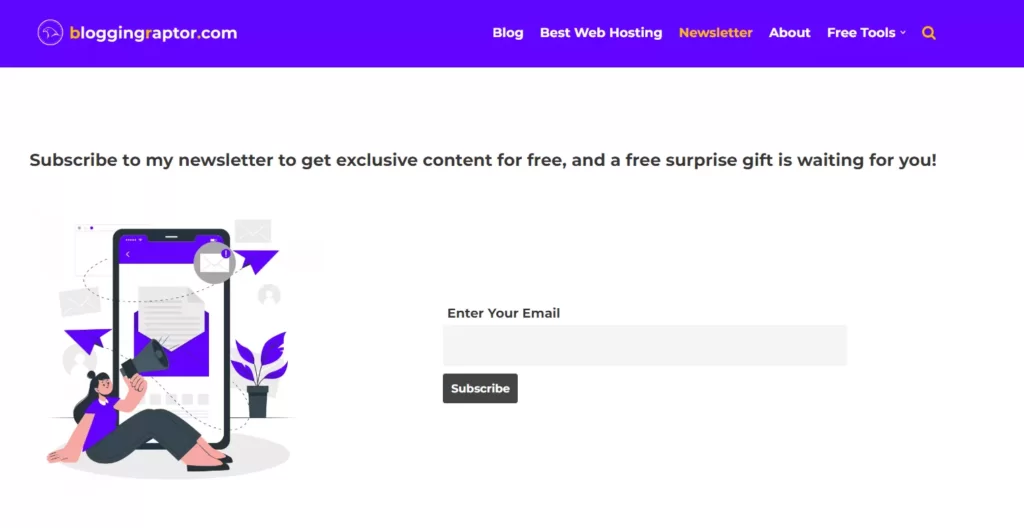 You can check out the newsletter page of this blog "Blogging Raptor" here: https://bloggingraptor.com/newsletter/
What you can do is create a newsletter page using any good email collector plugin or email marketing software.
With the plugin, you can collect emails and import them to your email marketing software or just simply use an email marketing software to do it quickly.
Providing Freebies to Email Subscribers
This way is really effective if you want to grow your email list very rapidly. In this world, people love things that they get free of cost!
What you can do is add a line to your newsletter page or the landing page from where you want to collect emails.
Have a look at my newsletter page's headline: Subscribe to my newsletter to get exclusive content for free, and a free surprise gift is waiting for you!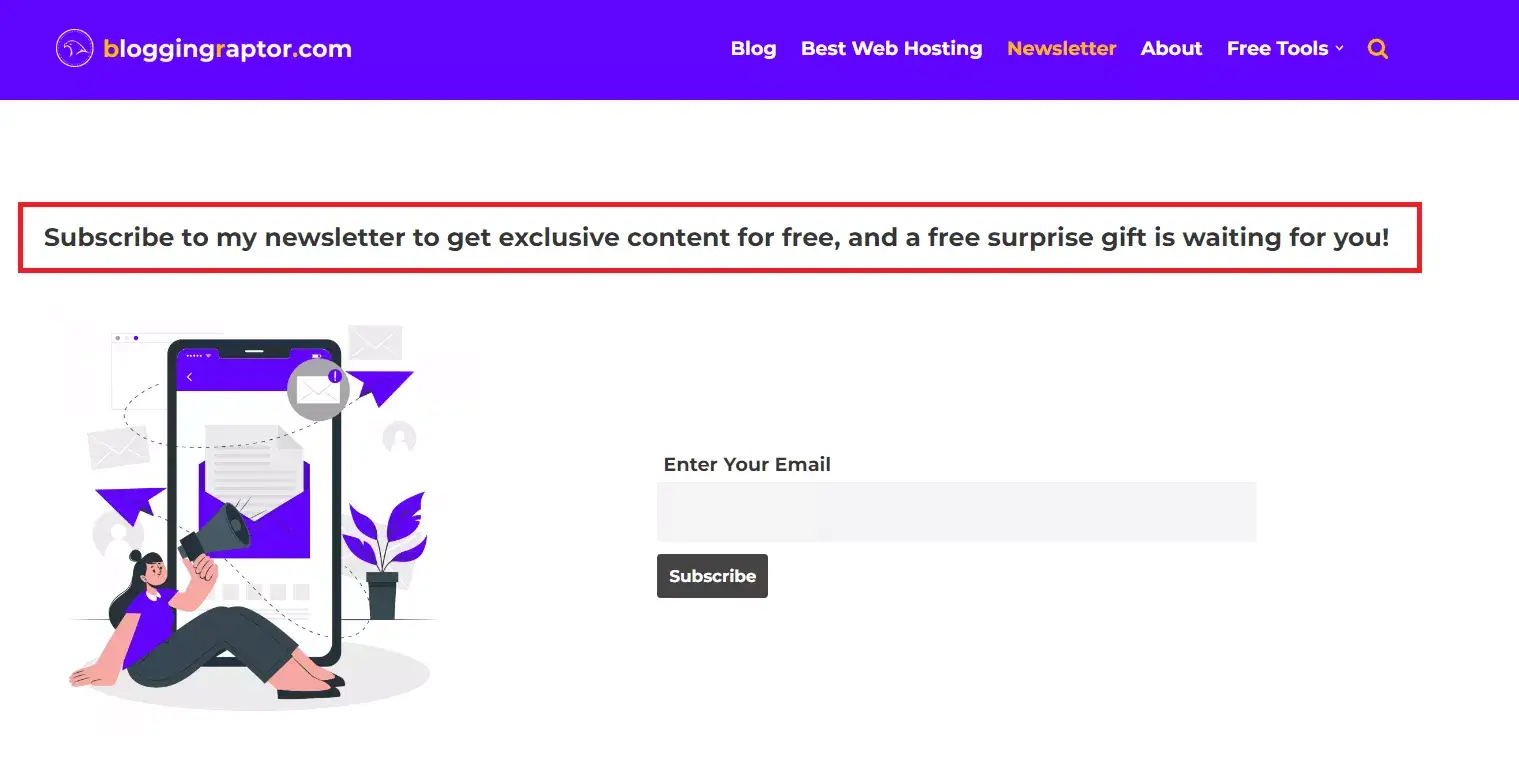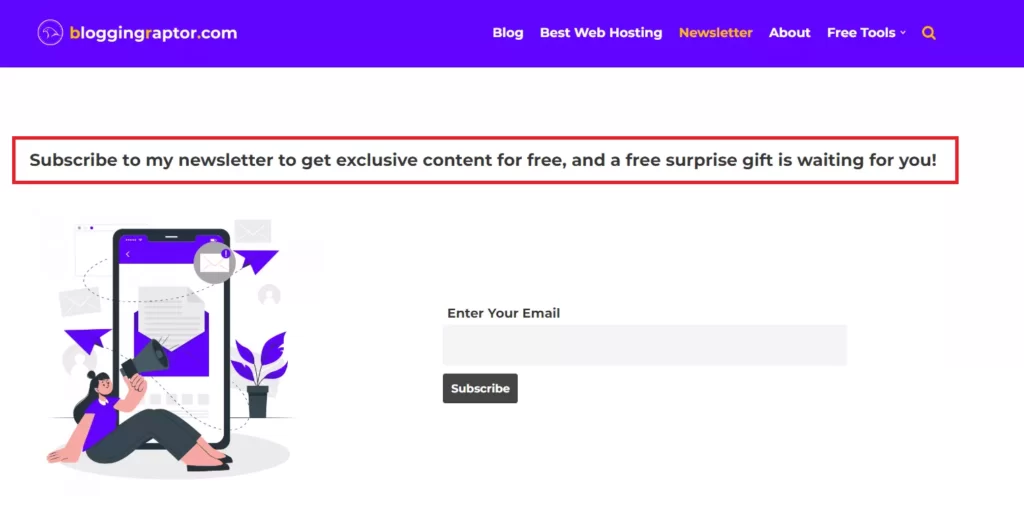 In my blog's newsletter page I have created automation in which if a user enters their email address and confirms their subscription, then they will get the Pro version of Neve WordPress theme with license key.
If you too need the Pro version of the Neve theme then subscribe to my newsletter here ?
And you won't believe it from 27 April 2022 till the time I'm writing this post (26 June 2022) I have collected 421 emails just with this freebie offer.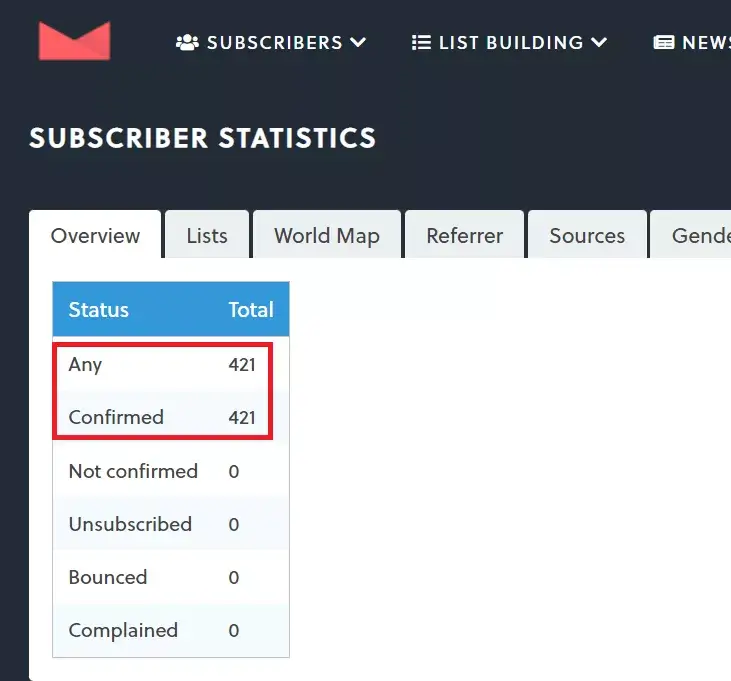 Isn't that great? Obviously Yes, it's around 60 days and I got 421 verified emails for my future promotions.
You don't need to provide premium products for free, well if you can then there's no issue.
But if you can't share premium products then you can create free ebooks, courses, podcasts, or any other digital product that will also work.
JUST AN ADVERTISEMENT
CONTINUE READING BELOW
Hosting or Running Giveaways
Again talking about freebies.
You can run giveaway contests on your website or on social media like YouTube or Instagram.
On my Blogging Raptor's blog, I use plugins like Rafflepress to run all of my giveaways, You can also go for Gleam.io. It's a good plugin to capture emails and other details for your business.
It has an entry feature, where you can promote your social media too, just have a look at one of my giveaways.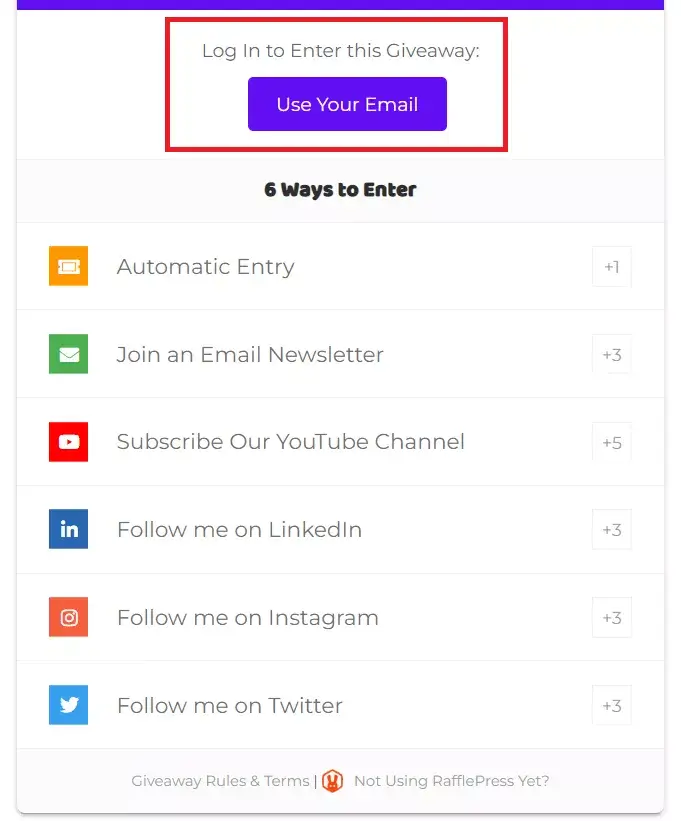 As you can see in the above image the users need to verify their email to join this giveaway, and they can increase their winning chances by completing other tasks to gain more entries.

This particular giveaway was live for 1 week and I'm able to collect 57 emails from it, and just below it, you can see other giveaway entries below it, in which I collected 37 emails.
The total is 94 and 11 emails were repetitive entries which means 11 users again joined my first giveaway.
But still, I managed to gain 83 emails just from two giveaways that cost me nothing as I shared the products which I was not using, so I thought to giveaway them.
So you can host giveaways to grow your email list easily and fast!
Adding Opt-in Pop-up Forms
Another expert way to build an email list is to add opt-in pop-up forms to your blog posts or to the whole website.
You might have seen many pop-ups on different websites/blogs where you are reading any blog post or just scrolling that site after 5 – 8 seconds, you can see the below image.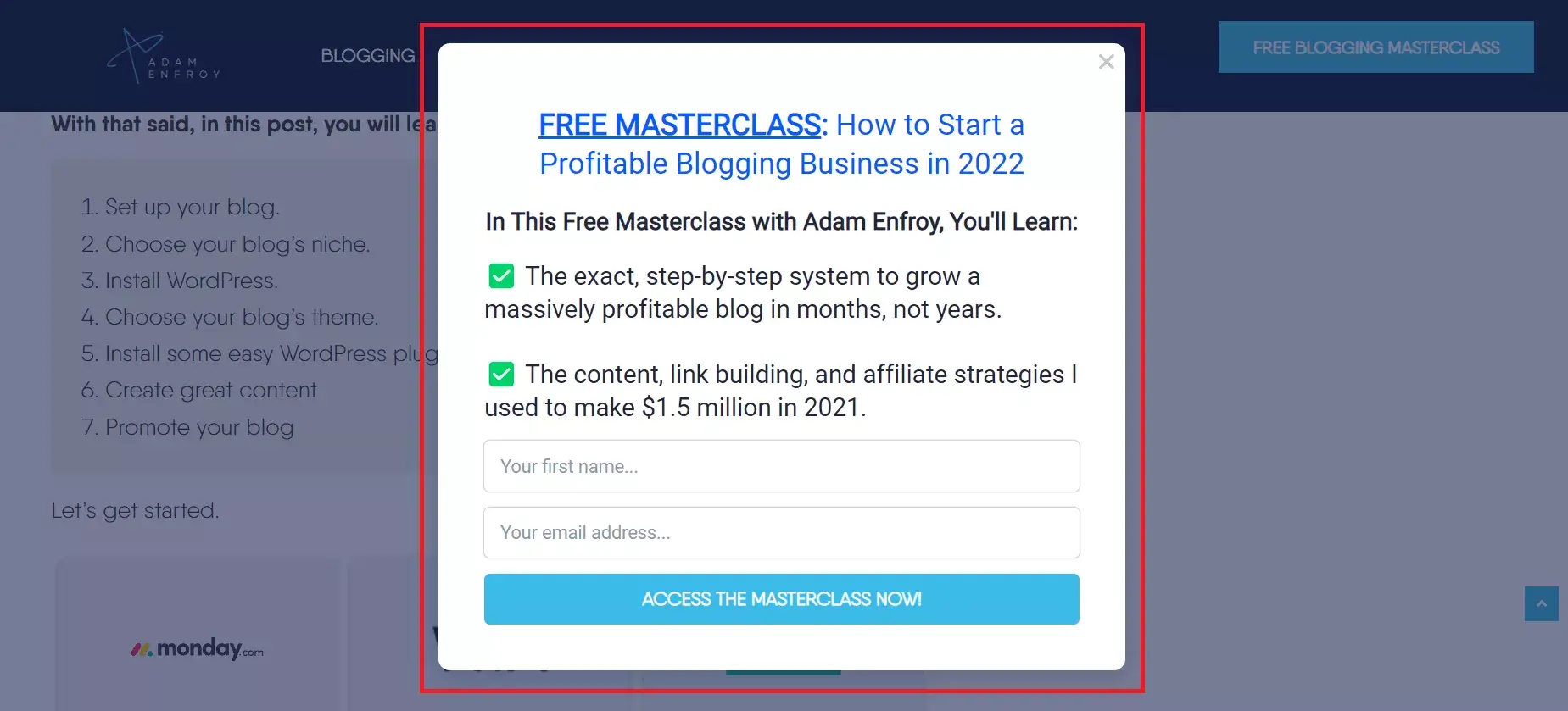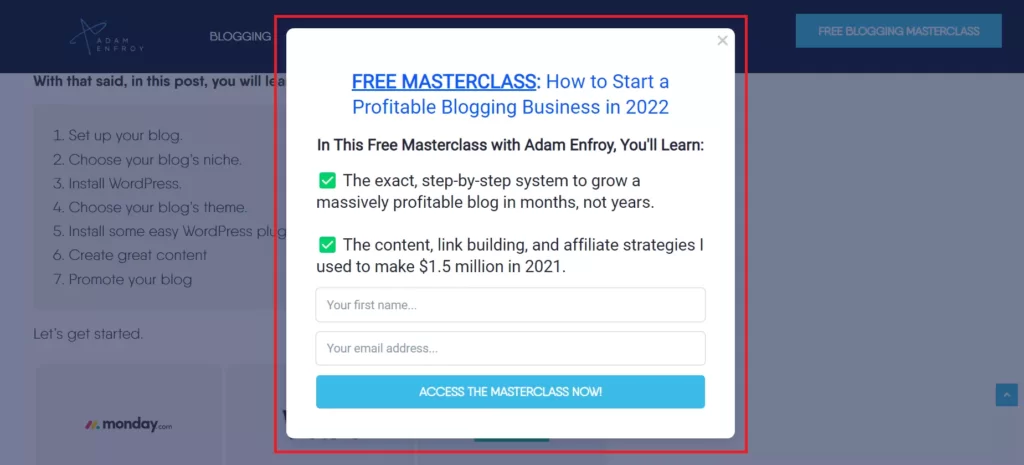 These are opt-in forms where the users are asked to fill those forms by providing their name and email.
It can be an offer form or discount form or even a newsletter form that you can add to your website, and share your latest offers, deals, or newsletter to those users.
You can use email marketing tools that allow pop-up builder features and add them to your blog or website.
It works really nice you can also collect emails and grow your email list or promote the latest deals and offers.
JUST AN ADVERTISEMENT
CONTINUE READING BELOW
Adding or Placing Static Email Widgets
This is quite a good way to collect the emails of your website visitors.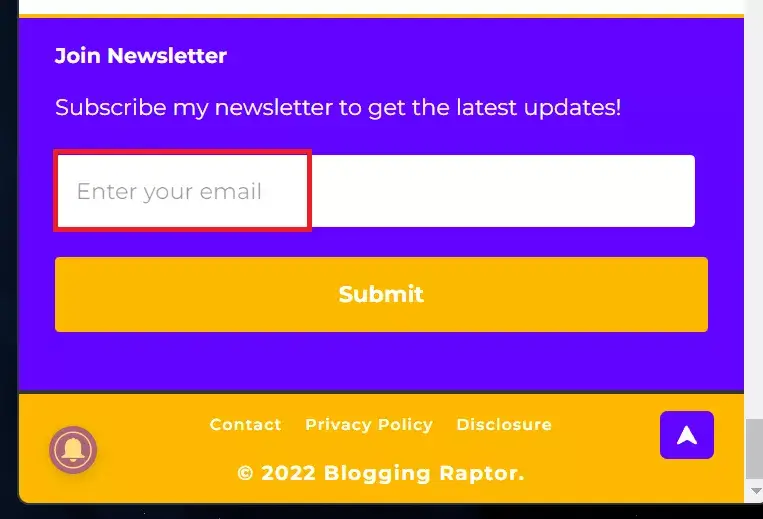 Whenever a reader visits your blog and reads awesome articles written by you then they will also want some more good content from your side, so you can place a static email collecting form on your website.
Places where you can place your static email form widgets at the:
Header
Footer
Starting your blog posts or pages
End of your blog posts or pages
Sidebars
Smart bars
Between your posts and pages
Or any other place you are able to add. So that if a user likes your content and he/she saw your widget then the chances of adding their email are high.
Promoting Future Deals
This can be a great way to grow your email list when a user wants to buy or planning to buy something then they search for some offers or discounted deals everywhere.
You can create pop-up forms just like we discussed in a 4th way or add a static widget as we discussed in a 5th way, and promote your offers there.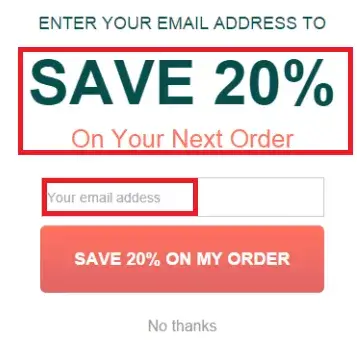 For example, If a user visited your site and looking to buy a product, so on that particular page you can add a static widget or pop-up form where you will tell that user about upcoming discounts and offers on a particular product page.
In that form or widget, you can write " Do you want a 10% discount on XYZ Product? then enter your email fast to receive the discount coupon code valid for the first 50 users only, HURRY! ".
Everyone loves discounts so the chances of getting the visitor's email are very high, also you can promote other deals in future too.
Sharing Premium Content with Email Subscribers
This way of getting email leads is really helpful.
You just need to write something like "Get My Premium Content That I Only Share With Email Subscribers for Free!" in your newsletter forms heading.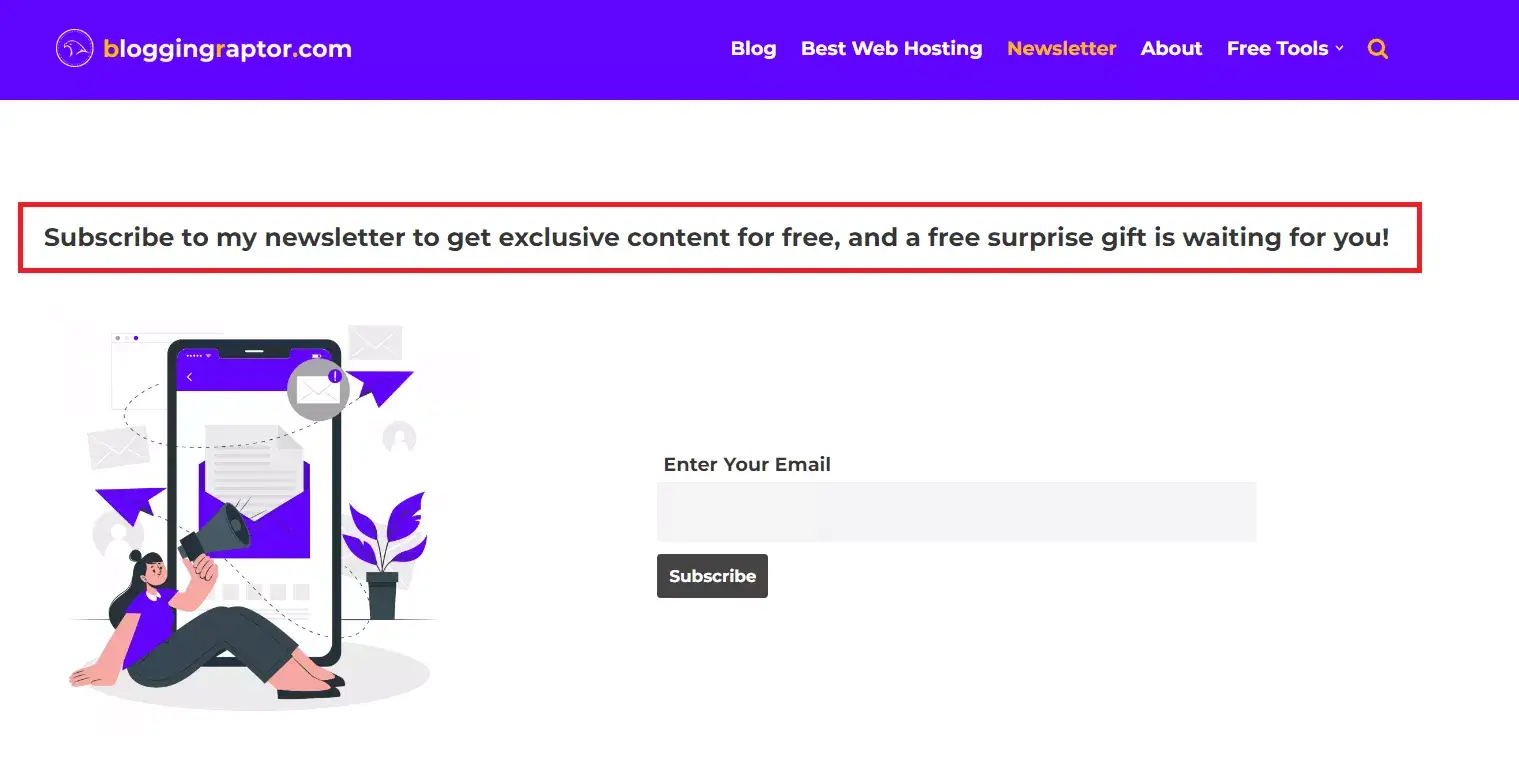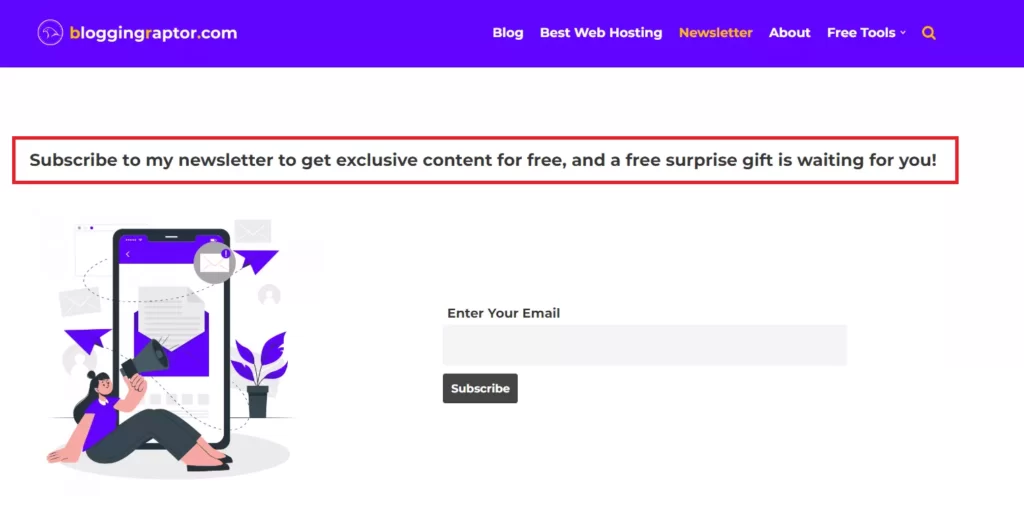 Again people love free stuff, and if you share premium content for free then the chances of getting those leads are very high.
So, you can also share some products or personal tips in form of articles with those email subscribers on a monthly or weekly basis.
JUST AN ADVERTISEMENT
CONTINUE READING BELOW
Referral & Earn Reward Programs
This way is more beneficial if you have some premium products.
What you can do is you can tell your visitors that they will get the premium version of this XYZ product for free if they refer 2 or 3 friends to just sign up for your newsletter.
Believe me, this method can boost your email list very fast, as the users just need to tell their friends to visit the link and just signup, that's it.
Well, the benefit of this method is you will get more and more email leads.
But at the same time, this method has some consequences, as the user will refer their friends who might not be interested in your content.
So those leads may be worthless, but if your content is universal then this method can be very helpful for you to build your email list for free.
Create a Free Tool or Application
One of my favorite and the best working method to build an email list, and is the best one for me.
You can create a free tool or application for your users to use, but before allowing them to use your tool the user must need to sign up.
What you can do is integrate Google sign-in option into your tool to make this process easy.
I'm doing this with my android application RaptorKit, in this application, there are various SEO & digital marketing tools available to use.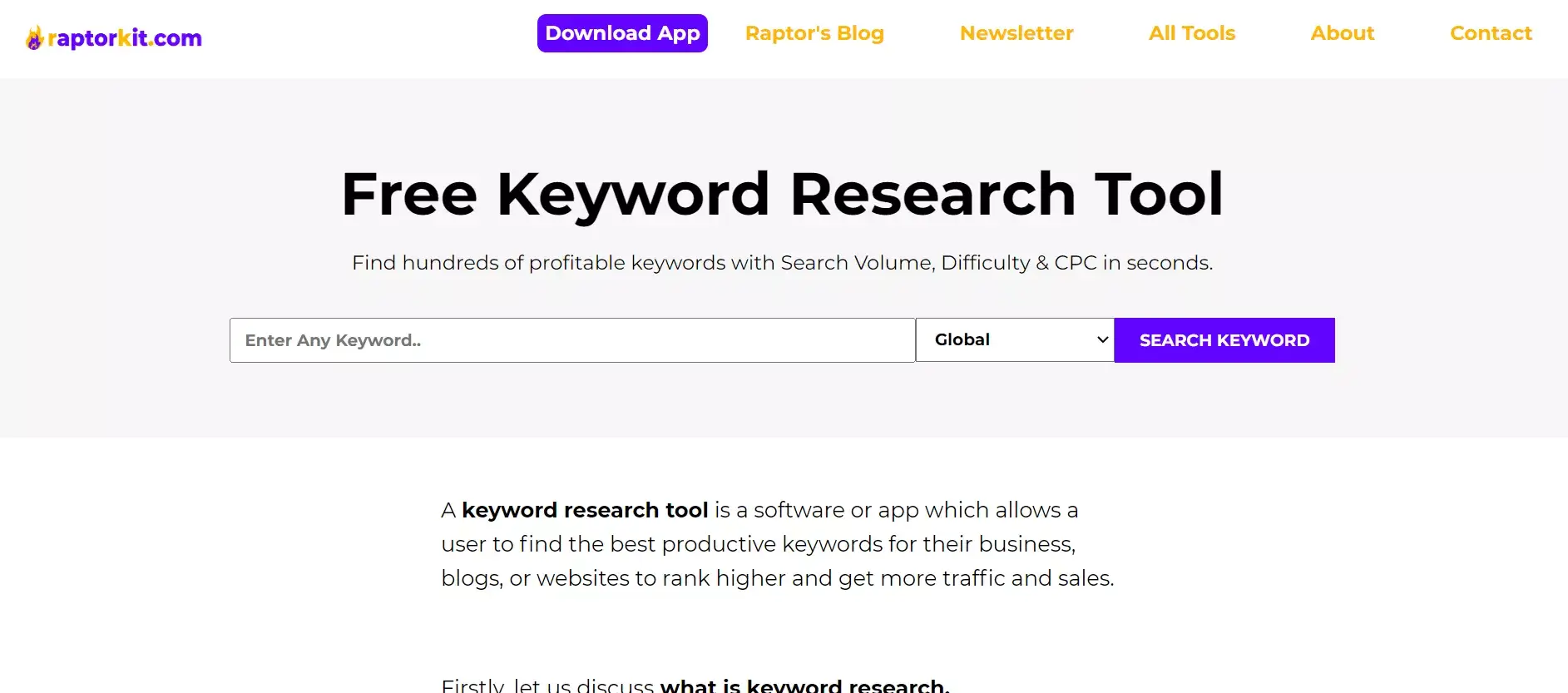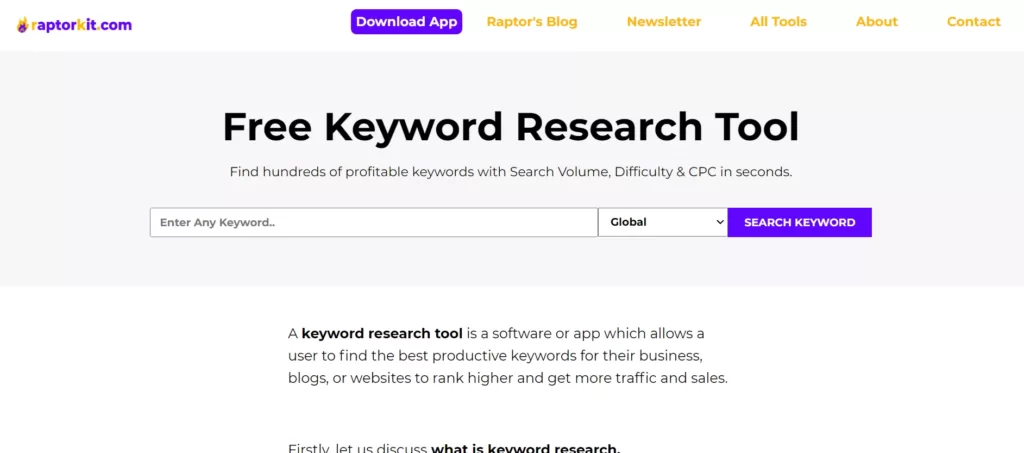 Check out RaptorKit App here
And one is a free keyword research tool in which users can get data like monthly search volume, CPC (Cost Per Click) & Paid difficulty of a keyword for free of cost.
I have integrated Google sign-in option in that tool, whenever the user uses this tool for the first time they need to log in with their Gmail account and when they log in through their Gmail account, I get their email address.
Currently, at the time, I'm writing this article I had collected around 400 emails just from this tool, and the best part is all of them are Gmail addresses and related to my niche.
So, you can also create a free tool related to your niche so that whenever a user sign's up you will get their emails.
Providing Free Trial Plans
If you provide premium services on your website then this method can be beneficial for you.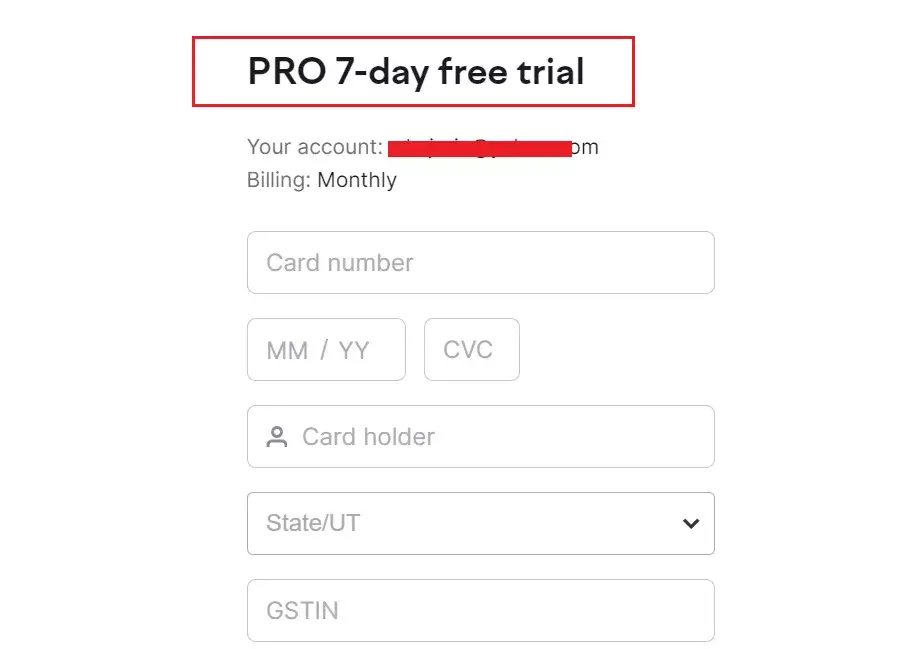 You might have seen many websites that allow users for a free trial on a monthly or weekly basis in which users need to register and use the premium service for a few days.
This way is really amazing as first of all you get the email address of that user also they use your service for a few days, and if they love your services then there is a chance that they will buy your premium plans too.
Or if somehow they didn't do that, then you can send a follow-up email to their registered email address to provide a review as well as you can share about future plans & offers with them.
In this way, you will get an email lead as well as a review of your services at the same time for free of cost.
JUST AN ADVERTISEMENT
CONTINUE READING BELOW
Conducting Online Surveys
By conducting an online survey you can get email leads as well as you can also get an idea of what people like or not.
You can run simple surveys related to your services and ask people about their options, and don't forget to add an email text field so that they can add their emails.
I know many people won't give their emails, but many of them will surely give.
This will benefit you in both ways, first, if they enter their email then you will get a lead, and if they don't enter their email then there's no issue as you will get feedback through that survey form related to your services.
Running Free Webinars or Live Sessions
If you have some expert knowledge or personal experience in your field then you can run webinars or live sessions and tell your website visitors about those events through your website.
Also, it doesn't matter that you must have knowledge in that particular field but what you can do is to call a person in your webinar or live session who has a piece of good knowledge in that field.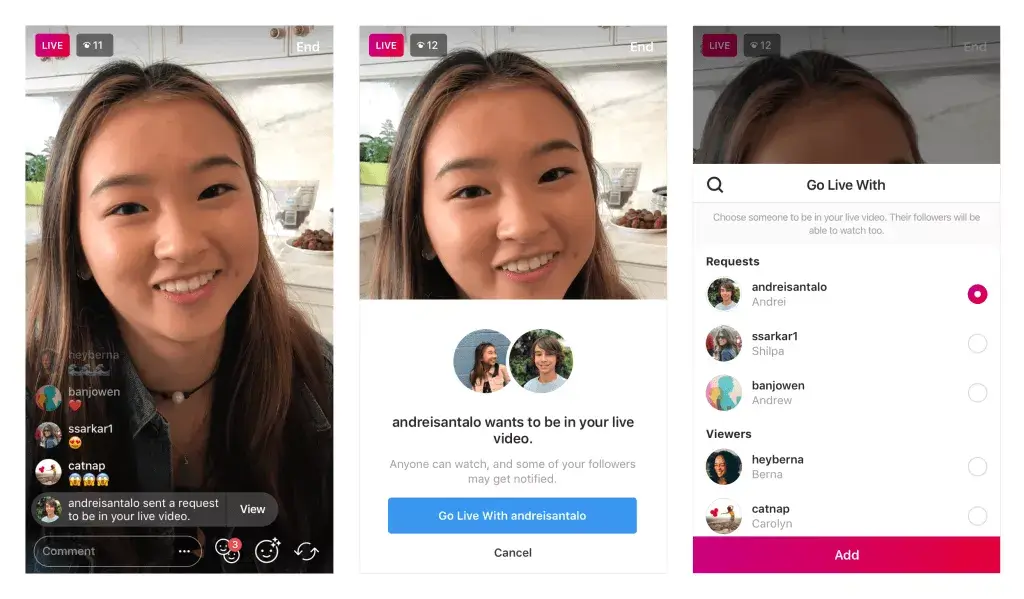 You will ask your website's visitors to enter their email where they will receive the link to join the webinar.
In this way, you can collect more and more leads related to your services and build your email list.
Collab With Influencers
Nowadays, influencers can really help you to get lots of email leads, especially Instagram influencers.
People interact very much with social media influencers, the conversion rate is more than 20% as they believe in that influencer.
You can collab those influencers and also invite them to your webinar or live sessions that we discussed in a 12th way.
Same you need to give a link to that influencer and he/she will paste it on their social media bio section and ask their audience to register and join that live sessions or webinars.
This method is really great and may help you to generate more leads and grow your email list too.
JUST AN ADVERTISEMENT
CONTINUE READING BELOW
Use Your Social Media
As we discussed previously, you can also use your own social media to get emails from your followers.
What you can do is pick up a method from the above-mentioned ways and promote it on your social media account.

You can add links in your bio sections, in your stories, and descriptions of your posts or videos, also if you have more than 10k followers you can use the slide-up feature.
Well, as you know, now you can add links in your Instagram stories directly with "0 followers" too.
So do use your social media accounts to generate email leads.
Using Web Push Notification Services
Web push notification services are a very effective way to get more leads.
I know you won't get emails from your visitors, but in the end, you need to share your content or services with different users right?
You can use web push notification services and integrate them into your website so that whenever you have a new visitor visits your site, they will be asked to accept the new notifications in their browser.
I recently added One Signal's web push notification to this blog on 24th June 2022 and shared it on my telegram group only.


Today when I'm writing this article i.e 26 June 2022, I got 74 monthly active subscribers in just two days as you can see in the above image.
So, web push notifications can also be beneficial for you, and after some time you can ask the web push subscribers to join your email newsletter to receive premium content for free.
Alright, till now we have discussed 15 ways to grow your email list, now let's discuss the last one.
Take User's Feedback
Taking users' feedback can also help you in getting emails.
What you can do is mix up the above-mentioned ways and collect feedback from your users.
You might be thinking that I'm again talking about online surveys. Ya, It is like an online survey but the difference is in this method the user needs to enter their email address.
This means the user needs to fill up the email text field to submit their feedback.
I know this doesn't sound that much interesting or working, but as you know in this article we are talking about different ways to build your email list.
And this one can be helpful though, that's why I shared this method too. And the rest depends on you that, how will you execute this methods to grow your email list.
Advertisement
Conclusion
Alright, these are the various method through which you can build your email list from scratch.
I had shared these methods as many of them have worked & working perfectly for me.
Many of them I haven't tried till now, but I had shared them as other people are getting good results from it.
And the main thing is how you execute these methods for yourself.
So, I hope this article was somehow helpful for you and if yes then don't forget to subscribe my newsletter too ?
Haha, I'm kidding, but yes if you like it then don't forget to share with the needy ones and also share your thoughts on this in the comment section below.