Blogger vs WordPress – Which one is the Best and Why?
Blogger vs WordPress? Have you ever thought about which one is better for blogging and why?
In this particular article, I will tell you in detail which is the Best Blogging Platform between Blogger and WordPress. Because whenever a newbie blogger starts his career in the blogging field, then only one question comes to his mind, which platform should I choose between WordPress & Blogger for blogging?
In view of this, I will tell you about all the features, comparisons, and differences between these two platforms. After knowing, you will know for yourself which platform should I choose for blogging? So let's start this important and useful topic right now.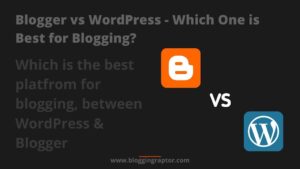 Blogger vs WordPress
Blogger vs WordPress
Well, there are many such platforms in the market, such as WordPress, Blogger, Wix, Tumblr, Weebly, Medium, etc. On which we can easily start our Blogging Journey. But out of these, there are only two such platforms which are very famous and used all over the world. Like WordPress and Blogger.
But the issue is which platform is the best between WordPress and Blogger. So let's know about this question. Before this, you have to know completely about all types of features or differences between Blogger and WordPress. Only then you will be able to make sure and know on which platform we should go for blogging.
[the_ad id="998″]
Which is the Best Blogging Platform between Blogger vs WordPress?
Let us first know about the features, facilities, comparison, and differences of both these platforms.
– Control
Blogger
Blogger which belongs to Google Company, in this we get very simple features. With the help of which we can manage our blog only by the given options. But if you want to make some changes or add to it, then you cannot do anything like this.
WordPress
We get many types of Advance Features in WordPress. By using which we can make our blog better or better, we also get many types of plugins, by downloading or activating which we can add many features and make changes without coding.
 – Search Engine Optimisation (SEO)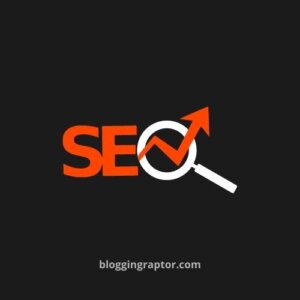 Blogger
In Blogger, we cannot do SEO of our blog and blog post so well. Because we get a very small amount of features in it and on the other hand we do not get plugins at all in it. That's why we cannot do anything in Blogger in terms of SEO.
WordPress
Whereas in WordPress, we can do SEO of our blog in a very good way. Along with this, we get many types of Free SEO Plugins. Such as Yoast, Rankmath etc. Use which we can do On-Page SEO very easily or can also target our Focus Keyword with Keyword Density.
[the_ad id="998″]
– Investment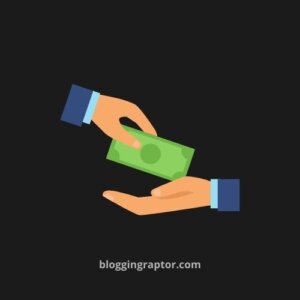 Blogger
We do not need to spend any kind to create a blog in Blogger. This is Google's platform, which is absolutely free for everyone. In this, hosting is provided to you absolutely free by Google, and even you are given a free subdomain in it and if you want, you can also put your own purchased custom domain in it.
WordPress
To create a blog in WordPress, both hosting and domain have to be purchased. After this, WordPress has to be installed in the purchased hosting, after which we can use it by logging into WordPress's Dashboard.
So, if you want to know that How To Start A Blog from beginning to end, then I had already shared a complete article on our blog in easy language. Which you can go and read easily.
-Security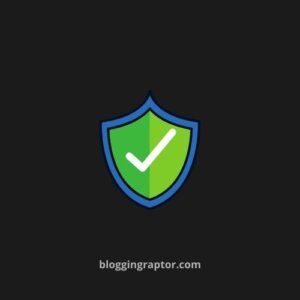 Blogger
As we all know Blogger which is a product of Google itself. So it is a natural thing that we get its security very good and strong. Because Google is a very big company. Which is used all over the world and any type of their service is very good and great as compared to other company.
That is why no one can easily misuse or hack our blog.
WordPress
On the other hand, WordPress is good in terms of security. But we have to take care of many types of precautions in this to protect our blog from hacking. Because if you use a plugin and theme given from a wrong website or through a wrong person, in which Virus and Malware are present.
[the_ad id="998″]
-Themes
Blogger
In Blogger, we get Templates/themes to use our blog in very small quantities and we cannot even customize them according to our mind. Even though there are websites that give us Free and Paid Themes/Templates for bloggers, but we cannot edit them according to our minds and their quality is also very normal.
WordPress
We get many types of free templates in WordPress. Which we can use for all our types of blogs. Whether our blog is of any type like Affiliate Marketing, E-commerce, News, Sport, etc. We get all kinds of templates in WordPress and we can customize them according to our mind and their quality is also very good.
– Updates
Blogger
In Blogger, we get to see any update in a very small amount. Just recently, Google had brought out an update for its Blogger after several days. But now we do not know, as before, now we will get to see their next update after months or even years.
WordPress
Every day we get to see updates in WordPress and it keeps on increasing its security and features. Updates are available according to the needs of people in WordPress Dashboard, Plugin, Theme, etc. Which is a very good thing.
WordPress Pros & Cons Features
Many Free High-Quality Templates are available for using blogs or websites in WordPress. Which we can customize very easily according to our mind.
Updates keep happening in WordPress. Due to which the security of the blog and the needs of the people are given. In WP's Update, we get more than one Advance Features in Theme, Plugin.
To do On-page SEO of Blog Post in WP, we get Yoast and Rankmath Plugin absolutely free. With which we can do SEO for our blog very easily.
WP is very easy to use and its user interface is also very good.
In WP you can create any type of blog or website. Like Affiliate, News, E-commerce, Sport, Gaming, Pictures, etc. And you get a lot of social media options in WP to share your blog.
To create a blog or website in WordPress, you have to buy both Domain and Hosting.
In order to use better or advanced features themes and plugins in WordPress, you have to buy them.
If you have bought cheap hosting for a WordPress blog, then your blog can be down at any time and can be completely dead due to high traffic.
Blogger Pros & Cons Features
We do not have to pay any kind of money to create a blog on Blogger. It is completely free.
Blogger is absolutely simple and user-friendly. Which can be easily used by any new person.
In Blogger, we are given hosting absolutely free. Which is very powerful. No matter how much traffic comes to our blog, the blog handles it easily.
Blogger is very good and good in terms of security. Because this is a service of Google itself, which is very big and Advance. That's why our blog created on Blogger is very secure.
You can create 100 blogs on Blogger with your one Gmail account. You can create your own blog like Experiment, Passion, Fun, Personal, etc. from the same account.
We get Limited Templates in Blogger, which we cannot even customize according to our needs.
We cannot do SEO well on Blogger, nor do we get any kind of plugin in it.
Blogger which is from Google. You can use your blog in it, but you yourself are not the owner of it. Google can delete your blog at any time without any reason.
In Blogger, you are given to use very few Limit Resources in all types of facilities and features.
[the_ad id="998″]
Best Blogging Platform For Beginners.
So now let's talk about which of these two platforms is best for blogging. As I have told you all the information related to these two platforms. So you must have got an idea which one is the best.
Blogger in which you do not get so many features as compared to WordPress. But you can start it by creating your own blog absolutely free of cost. There are many successful bloggers in India who started their career as bloggers and later they shifted their blog to WordPress.
On the other hand, in WordPress, you get to see many types of advanced features, using which you can easily do blogging and you can do very good SEO of your blog or blog post and target your Focus Keyword.
We would like to tell you that if you are completely new to blogging and want to know blogging in depth and want to learn how blogging is done and how to run and create a blog. So you should go to Blogger Platform in your initial days.
But if you have been a little bit time in blogging and have come to know how blogging is done and you have started understanding the things related to blogging or you have a little budget and you can really make your future in blogging. want to make. So you should go to the WordPress platform without thinking and use it.
Final Words
So, guys, I hope that you get an idea that which platform is best for blogging?
In which we have told you which platform will be the best for us in Blogger vs WordPress as well as have explained to you in brief language about the features, features, and differences of both of them. After which now you yourself will be able to easily decide on which platform I should go.
So, I hope this article helped you to make any decisions regarding Blogger vs WordPress, if you liked and found this helpful then do share it with your friends so that they also get benefit from it.
Don't forget to subscribe to our newsletter to get the latest updates of our all-new articles and tips straight into your mailbox for free.!!