What are DoFollow and NoFollow Backlinks? Are they Really Important for Your Blog?
What Are DoFollow Backlinks and NoFollow Backlinks? We all know that backlink plays a very important role in the blogging area. Especially in increasing the Domain Authority of a new website or blog, backlinks play a vital role.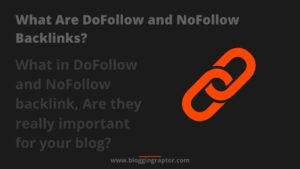 New bloggers keep making backlinks for their blog or website, but still, the ranking and authority of their blog do not increase. Because they do not know whether we are making Dofollow Backlink or Nofollow Backlink and what type of link is beneficial for our blog.
So today in this particular article we will discuss that what is Dofollow and Nofollow Backlinks? And what is the difference between Dofolow and Nofollow backlinks?
So that you can know that which backlink is beneficial for our blog or website. So that the ranking of your blog can be increased.
So let's start this important topic of today and know what is Dofollow and Nofollow Backlinks.
DoFollow And Nofollow Backlinks
Let us understand this thing with an example. Suppose you have a blog and you have given a link to my blog anywhere in a post of that blog and I have DoFollowed that HyperLink.
So whenever in the future Google crawlers will crawl that page of your blog, and they will scan that page. So that crawler will also go to my website or blog page through your page.
Google Crawlers will feel that you are recommending and you have full faith that my blog is trusted and genuine, that's why you also go to this link and scan it too. With the help of which my blogpost will also get indexed and crawled in Google.
But if you gave a NoFollow tag in the HyperLink of my blog in your post, then all these crawlers do not go to the link of my website. Because I have NoFollowed it.
So, the crawler will crawl and scan only your page.
[the_ad id="998″]
Which is Best between DoFollow and NoFollow Backlink?
As I already said to you above that DoFollow is very beneficial for our blog or website. Because of this, when Google's Bots crawls our website through any other website and they also crawl our website. Due to which our page is quick gets indexed in Google.
And on the other hand, Google also feels that this is a Genuine Website. That's why other websites are giving DoFollow Link to this website. That's why you should always make DoFollow Backlinks from a good and authoritative website. Although you can also create a Nofollow Link. But they are not so effective and powerful in comparison to DoFollow ones.
How to Know a BackLink is Dofollow or Nofollow?
Well, it's very easy to find out whether the BackLinks created by us are Dofollow or Nofollow.
For this, first of all, you have to go to the link you want to check in your browser, right-click on it and then click on the (Inspect) option. Or you can also go to that link (Ctrl+Shift+I).
After going to Inspect, now a window of HTML Code will open in front of you. In which you can find out whether this link is Dofollow or Nofollow.
If the link is NoFollow then,
<a href="http://www.google.com" rel="nofollow">
As you can see above that if there is a Dofollow link, you will see a different type of Html Code and if there is a Nofollow link then you will see this type of HTML Code. In this way, you can easily find out whether it is BackLink Dofollow or Nofollow.
So, I hope this article helped you to make any decisions regarding what is DoFollow and NoFollow Backlink? and which one is best for blogging? 
If you liked and found this helpful then do share it with your friends so that they also get benefit from it.
Don't forget to subscribe to our newsletter to get the latest updates of our all-new articles and tips straight into your mailbox for free.!!