Welcome to a new (promotional) article ? of our own new android application RaptorKit.
We as a blogger, digital marketers, developers, or web designers need many tools and software to complete our daily tasks easily and quickly.
JUST AN ADVERTISEMENT
CONTINUE READING BELOW
But if you are a newbie or just starting your career in this online field, you don't have money to invest in those super awesome tools whose monthly subscription starts from a minimum of 20$ or even some have more than 200$.
I know it's a big number to invest in the starting as first of all you are completely newbie, and also you don't know how to use those tools properly and efficiently.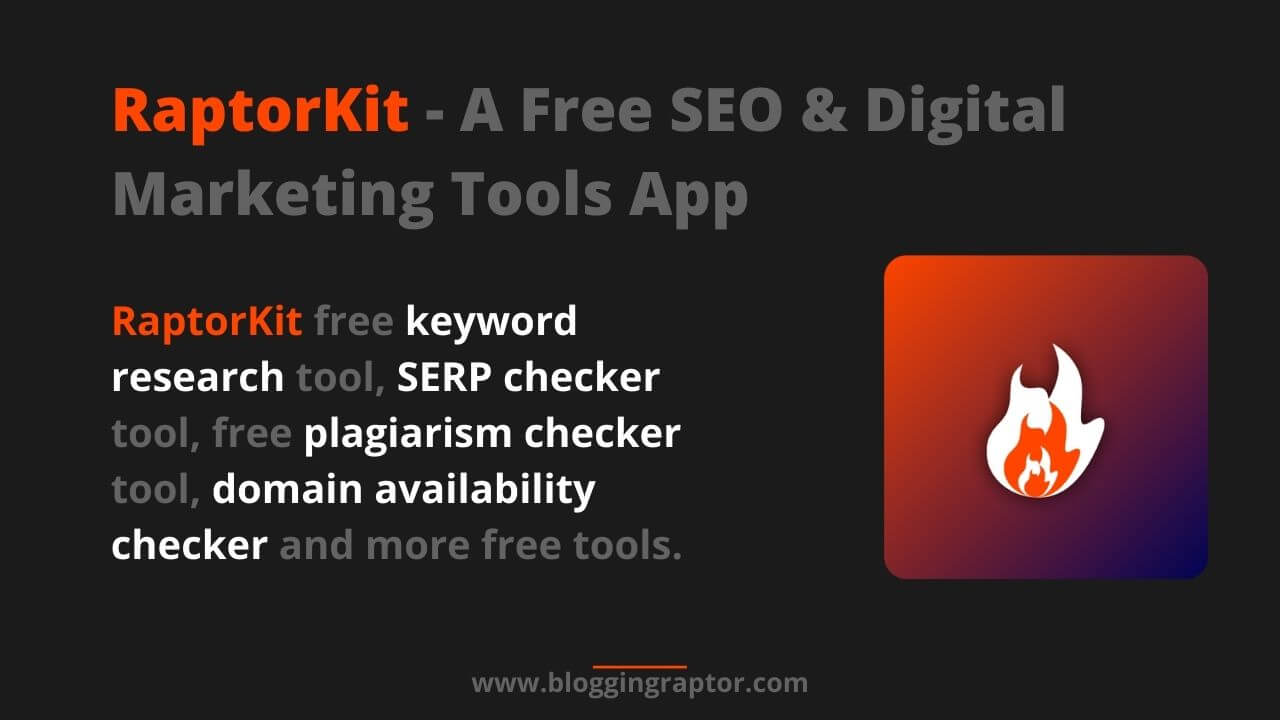 And I personally don't think to invest a single dollar in those tools, if you have a good alternative that is 100% free to use.
Yes, 100% Free + Unlimited usage,
You won't believe it, right? but it's true, and I know you will think that as it is free, so the authority or reliability of this tool will not that great.
But, let me tell you that you are wrong as I'm personally using paid APIs from some well-known SEO & digital marketing tools.
Well, If you want to download the right now you can scan the below QR Code or click here to direct download it from the Google play store.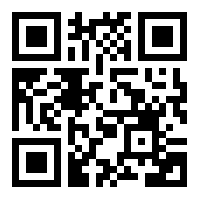 Okay, now let me tell you more about RaptorKit in detail, current tools which are available to use in the RaptorKit app, their usage.
Currently available tools in RaptorKit App.
Free Keyword Research Tool
As the name says this tool helps you in your keyword research work, the tool provides the average data for the past months, which will give you an idea for that keyword so that you can assume that it is profitable or not.
The data you will get in RaptorKit's Free Keyword Research Tool are:
monthly average search volume of the keyword,
estimated difficulty/competion for that keyword,
cost per click (CPC) for that keyword.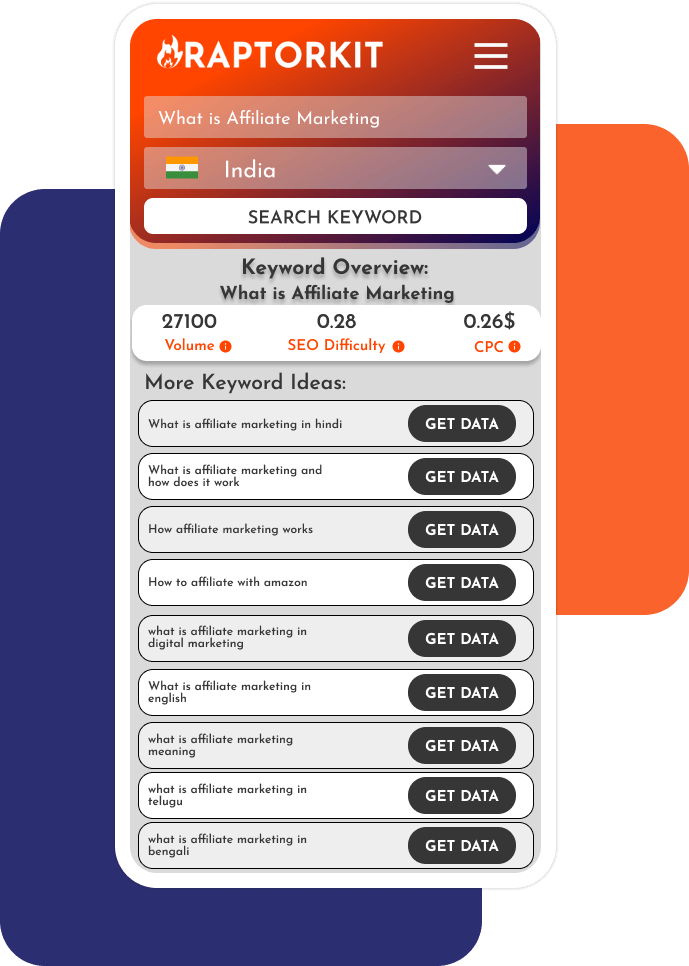 Authority & Reliability of the data?
Well, the data is presented to you through a Paid API of a well-known SEO Tools provider with millions of happy customers, but you don't need to worry about that.
As you can perform your keyword research process easily without spending a single dollar, as it's completely 100% free and unlimited.
JUST AN ADVERTISEMENT
CONTINUE READING BELOW
SERP Checker (Search Engine Results Page)
The free SERP checker tool will help you to check the current ranking websites/blogs of a keyword in a specific country so that you can assume the average competition for a specific keyword in the chosen country.
Free Plagiarism Checker
RaptorKit also has a free plagiarism checker tool for you through which you can easily scan your articles and check whether your article is unique or not.
This will help you in checking the uniqueness of your articles, if it is 100% then you can publish it on your blog, if not then you must change the copied/plagiarized content before publishing it on your blog.
Because if you publish a copied/plagiarized article then you might get in trouble as the original writer can take legal actions against you, so it's better to check the uniqueness of your content before publishing it.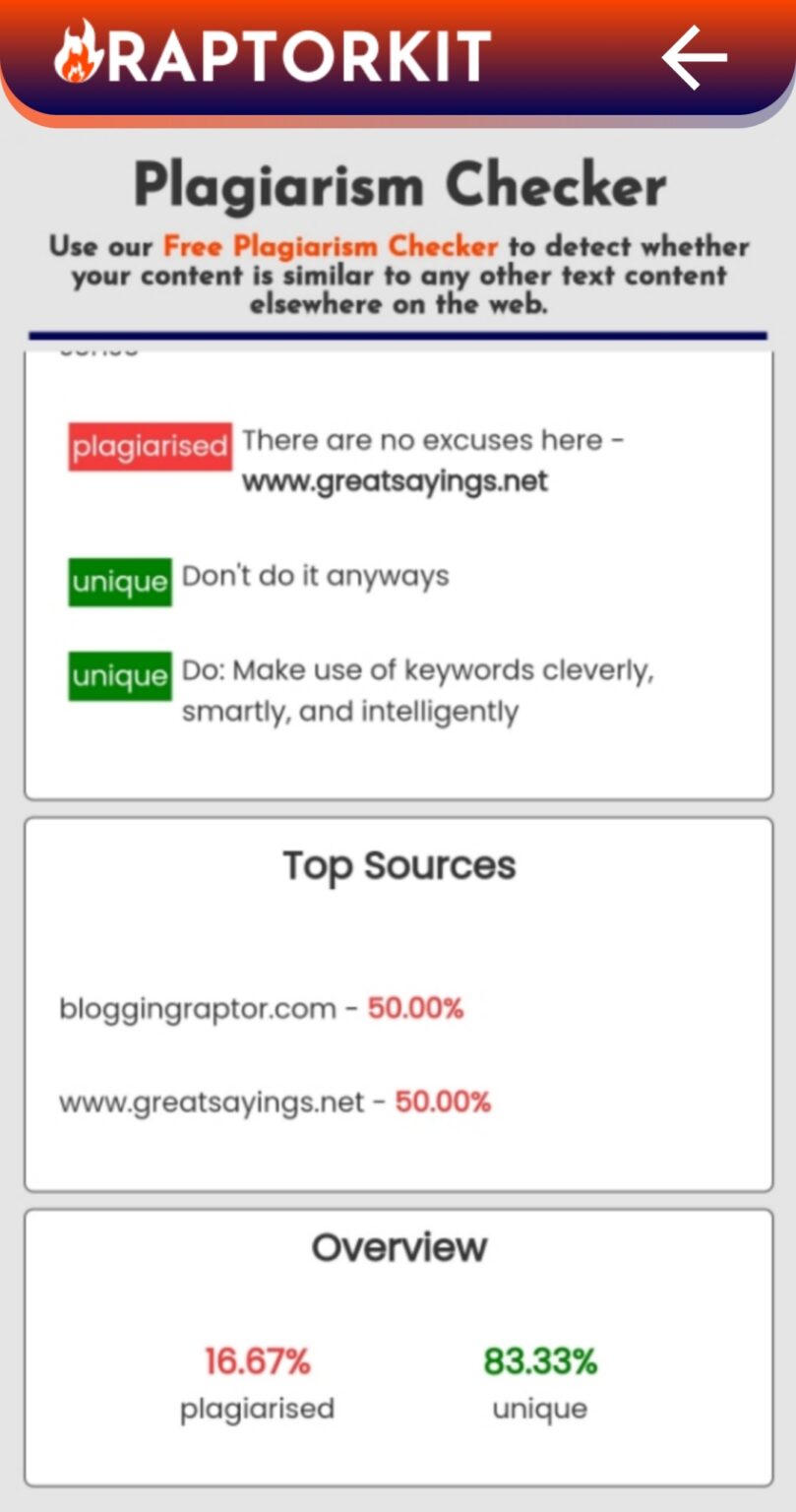 Well, I know there are lots of plagiarism checker tools available on the internet, but the difference between those tools and RaptorKit's free plagiarism checker is that it's completely 100% free and there is no word limit to scan a long article, whereas other available free tools have a limit of 1000 words per scan process.
Domain Availability Checker
The domain availability checker tool will help you to check the availability of a domain name, and also be able to buy it directly by clicking the buy now button near to it which will redirect you to the Namecheap's website where you can easily buy your desired domain name if it is available.
JUST AN ADVERTISEMENT
CONTINUE READING BELOW
Word Counter
The app also has a word counter tool in which you can easily count how many words and characters are there in your article.
Privacy Policy, Terms and Conditions Page Generator
The app also has a privacy policy page generator and terms and conditions page generator tools, through which you can easily generate a privacy policy page as well as a terms and conditions page for your website or blog easily.
Ad Revenue Calculator
With the help of this tool, you can calculate your Adsense revenue or any other ad revenue in just a few steps easily.
Note: I know Adsense revenue or any ad revenue is calculated by determining various factors so no one can calculate your ad revenue correctly, that's why this tool will help you in estimating your ad income.
Till now these are the only tools that are available right now in our RaptorKit app, but this is the beginning of something great.
JUST AN ADVERTISEMENT
CONTINUE READING BELOW
As we are going to add lots of useful, and you will get notified whenever we add them you just need to keep our app installed on your device.
Currently, our app is only available for android devices, and we will soon launch the Web and IOS versions of this app in the near future.
So, what are you waiting for give our RaptorKit app a try, and do share your experience with us.