How to Add Chapters/Timestamps to YouTube Videos Easily
Searching for How to Add Chapters to YouTube Videos? or How to Add Timestamps to YouTube Videos?
then don't worry. because in this article I will share the easiest way to add chapters to youtube videos.
Before we start I would like to tell you some benefits for the same.
If you upload videos related to tutorials, guides, and any other tutor videos. Then it becomes very long videos, maybe for more than 20-30 minutes, and sometimes for more than 1 hour too. So, if you add chapters to your youtube videos, then it becomes easy for your viewer to jump into a particular topic in which he/she is interested or wants to learn. 
But this has a negative impact on your video's watch time, as when views jump into a particular topic then it's obvious that he/she is skipping the previous part, in this way your video may get less watch time.
Now, you might be thinking about Do I add chapters to my youtube video?
So, I will say definitely YES. It may or may not decrease the watch time, but it will surely increase your user experience of your content. And if you are thinking about a decrease in watch time then don't ever think about it, as if your viewer doesn't want to watch the whole video then they will skip it even if you don't add any chapters to your youtube video.
Ok, without any further talks let me tell you how to add chapters to youtube videos.
[the_ad id="998″]
How to Add Chapters To YouTube Video (Steps)
2. After you open your YouTube Studio Dashboard, Click on content in the left side menu option (you can see in the below image)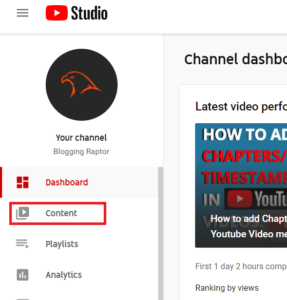 3. After you click on content, you will see your uploaded videos, then select the video and click on the edit button. (check below image)
4. After you click on the Edit button, you will able to see the edit" description section" below the title.
5. So, In that "description section" just add your timestamps and headings side by side (as shown in the below image).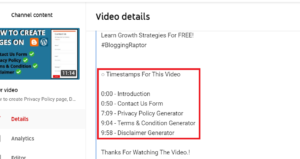 6. The format should be the same, for example –
Timestamps For This Video
Well, it's not necessary to write "Timestamps For This Video" It's just for the viewer to understand what it is when he/she is reading the description area. So, don't get confused with the information.
Note – Always add the time before the chapter name.
[the_ad id="998″]
7. After you add all the chapters just check it once again, and click the save button. 
That's It, Your chapters are now added to your youtube video, isn't it simple?
So, this way you can add chapters to your videos that are already uploaded  
But if you are going to upload a new video, then while adding the description section you can add chapters to your video at that time too.
So, I hope this article on adding chapters to the youtube video was helpful for you, If yes then do share it with your Youtubers friends So that they can also get benefit from it.