What is Domain Authority (DA)
Domain Authority is a ranking score for search engines, which is developed by Moz, which anticipates the authority, trust, and website/blog rank in SERPs (Search Engine Results Pages). 
What is a Good Domain Authority Score?
The Domain Authority score is a scale from 1 to 100, in which the 1 is the lowest or you may say bad, and 100 is the best. No one can say that this number is a good DA, but many SEO experts say a good DA score is between 50 to 60, and more than 60 is great.
And in simple words, a good DA score is having a DA more than your competitor. This means if your competitor has DA between 50 – 60, then your DA score must be greater than 60 or 65.
How is Domain Authority Calculated?
Well, DA (Domain Authority) is calculated on the basis of various factors. As per Moz, they check 40 different factors while calculating the DA of a website, but the main important factors which are taken while determining the DA of a website are mentioned below-
The number of root domains linking to your website.

Total numbers of backlinks

Number of external linking

Social Media Shares
How Do I Check My Website's Domain Authority?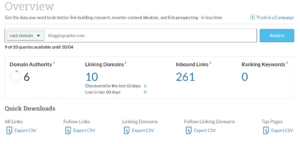 Moz Link Explorer

There is a bunch of domain authority checkers where you can check Domain Authority (DA) and Page Authority (PA) of your site, but the best is Moz Link Explorer which is free to use and will be the right one to use, as the Domain Authority is itself developed by Moz.
How to Increase Domain Authority?
The best practices you can do to increase your website's Domain Authority, as well as Page Authority, are mentioned below-
Proper SEO (On-page, Off-page & Technical)

Create an Accurate & Linkable content

Good Internal & External Linking

Profile Building – Create Social profiles and add your site's link in profile (check this list of 80+ profile creation sites)

Steal quality links of your competitors

Remove dead & bad links

Optimize website load speed

Good Domain Name

Share your content!

Create Backlinks (check out – What are backlinks and how to get backlinks)
Don't forget to subscribe to our newsletter to get the latest updates of our all-new articles and tips straight into your mailbox for free.!!