If you are sure to decide whether the Rank Math SEO course is worth watching or not then this article might help you to make a better decision.
Imagine you have a website, and you want more people to find it on the internet. Well, that's where SEO comes in. It's like the secret sauce that helps your website show up higher in Google and other search results.
Now, the RankMath SEO Course is like a friendly guide that teaches you all the tricks and tips to make your website more visible online. It's like having a personal coach for your website's success.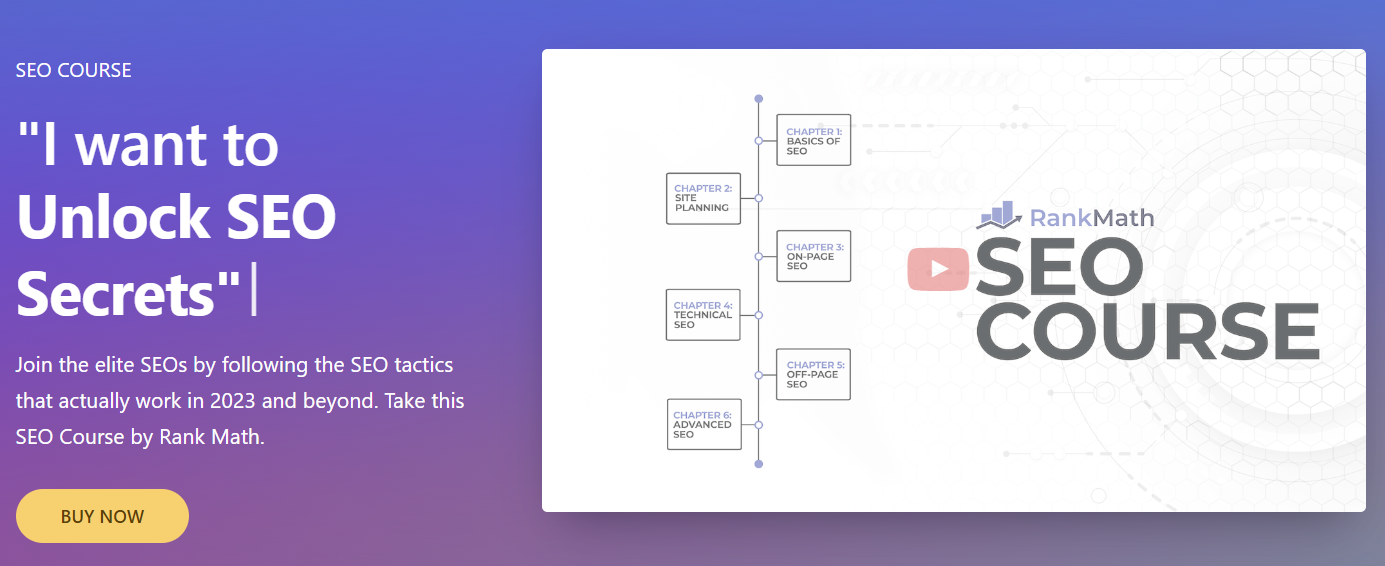 In this course, you'll learn how to boost your organic traffic, rank higher on Google, master keyword research, optimize your content, link building, and much more.
Overview of Rank Math SEO Course
The RankMath SEO Course is a place where you can learn the art of making your website really popular on the internet.
Think of it as your secret weapon to ensure that your website shows up when people search for things on search engines like Google.
This course is all about learning the mysteries of SEO, which is like the special recipe for boosting your website's online fame.
You'll dive into the world of keywords, which are like the magic words that help your site get noticed, and you'll master the art of creating captivating content that keeps visitors coming back for more.
The best part is that you don't need to be an expert or intermediate to get the hang of it. This course is designed for beginners who simply want their websites to shine.
Even if you are an intermediate or have advanced knowledge about SEO then also this course will also help you find new strategies and techniques for keyword research.
JUST AN ADVERTISEMENT
CONTINUE READING BELOW
Rank Math SEO Course Contents & Modules
There are a total of 12 modules/lessons right now.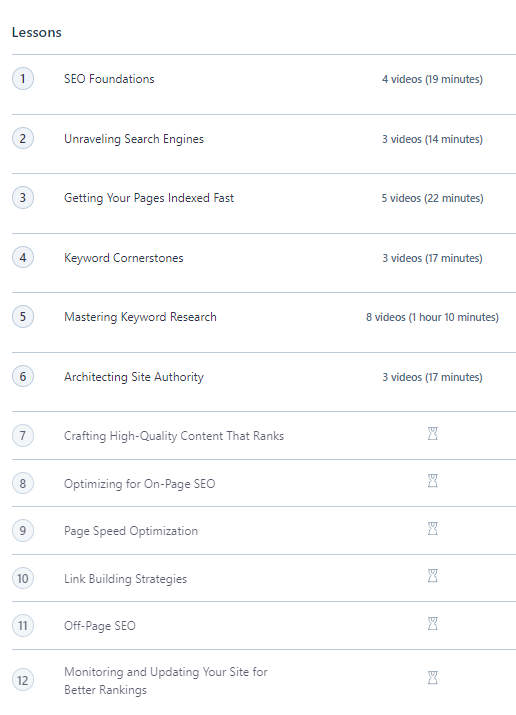 The first module is SEO Foundations which covers the basic of SEO and WordPress websites, it consist of four chapters/videos:
1 – Introduction, Lenght – 02:32 Minutes
2 – Course Outline, Lenght – 01:40 Minutes
3 – Anatomy of Web Address, Lenght – 02:31 Minutes
4 – Setting Up WordPress Website, Lenght – 13:27 Minutes
The second module is Unraveling Search Engines which covers the basic of search engines and how it works, it consists of three chapters:
1 – How Search Engines Work, Length – 04:04 Minutes
2 – What is SEO? Length – 05:13 Minutes
3 – Understanding SERP, Length – 05:03 Minutes
The third module is Getting Your Pages Indexed Fast which covers setting up a search console, sitemaps, etc, and different methods to index your website faster on Google, it consists of five chapters:
1 – Setting Up Your Site for SEO (GSC & XML Sitemap), Lenght – 05:14 minutes
2 – Getting Your Pages Index Faster, Length – 05:42 minutes
3 – Getting Your Pages Index Even Faster with IndexNow & Indexing API, Length – 05:27 minutes
4 – How to Know if Your Page is Indexed, Length – 03:12 minutes
5 – Things that could block your Pages from Being Indexed, Length – 03:48 minutes
The fourth module is Keyword Cornerstones which covers keywords, and search intent, it consists of three chapters:
1 – Intro to Keywords, Length – 01:37 minutes
2 – Keywords Anatomy, Length – 08:01 minutes
3 – Understanding Search Intent, Length – 07:51 minutes
The fifth module is Mastering Keyword Research which covers what are keywords, search intent, and how to find low-competition keywords with different methods, it consists of eight chapters:
1 – Intro to Keyword Research, Length – 05:44 minutes
2 – Keyword Research Metrics and Jargons, Length – 05:59 minutes
3 – Keyword Research Spreadsheet, Length – 03:14 minutes
4 – Generating Keyword Ideas (Part 1), Length – 14:47 minutes
5 – Generating Keyword Ideas (Part 2), Length – 10:01 minutes
6 – Verifying Search Volume, Length – 12:35 minutes
7 – Verifying Keyword Competition, Length – 11:24 minutes
8 – Keyword Research with Paid Tool (Low Fruits), Length – 07:35 minutes
The sixth module is Architecting Site Authority which covers site authority and silo structure, it consists of three chapters:
1 – Introduction to Site Structure & Authority, Length – 06:10 minutes
2 – What is a Silo Structure? Length – 08:33 minutes
3 – Content Hub: Hub & Spokes Model, Length – 02:47 minutes
As of now, they have unlocked only 6 modules and they have promised to share at least one video every month.
The rest of the 6 modules/lessons are:
7 – Crafting High-Quality Content That Ranks – Coming Soon
8 – Optimizing for On-Page SEO – Coming Soon
9 – Page Speed Optimization – Coming Soon
10 – Link Building Strategies – Coming Soon
11 – Off-Page SEO – Coming Soon
12 – Monitoring and Updating Your Site for Better Rankings
So these are the modules/lessons till now in the RankMath SEO Course.
Pros and Cons
In-depth SEO knowledge: You will learn the basic as well as the advanced level of SEO in this course.
Flexibility: Can be accessible anytime on their site with the internet.
Q&A with SEO Experts
24/7 Priority Support.
Only three lessons for free users
Paid: Need to purchase the course, so not for people who can't afford it.
Rank Math SEO Course Pricing
They offer two plans first is the Free plan and the second is Premium whose pricing is $16.41 per month + taxes and it will renew at $18.91 per month + taxes.
The course also offers a 30-day money-back guarantee, so If you decide the course is not for you, just email [email protected] before the 30 days are up and they'll give you a FULL refund without any questions asked.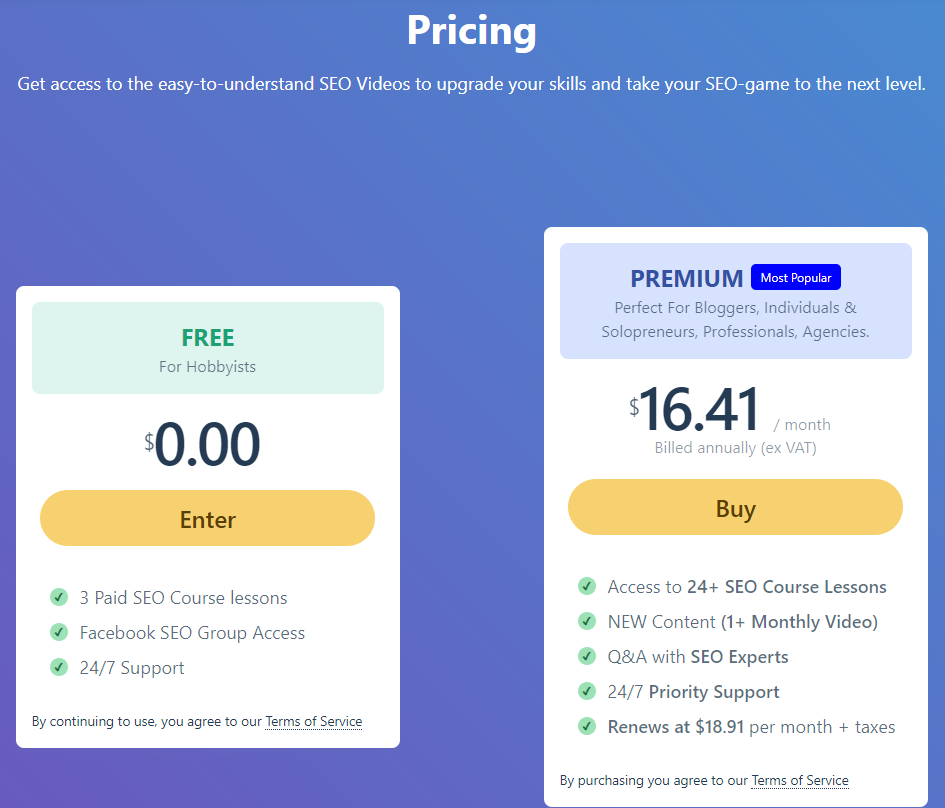 Course Insights: Key Takeaways for SEO Success
Understanding Web Anatomy: How websites and search engines work
How search engines Crawl, Index, and Rank websites behind the scenes
What are Search Engine Result Pages (SERP) & their features
Why SERP features matter for SEO and how to optimize them
How to build your own WordPress website from scratch in less than an hour
How to configure your website for SEO with an Intuitive Setup Wizard
How to get your website's pages indexed in Google and other search engines almost instantly
Check your webpage's index status on any search engine (easy way)
How to identify and fix any issues that prevent your pages from being indexed
Master the art of Keyword Research – the key to SEO Success
How to use SEO Metrics effectively for keyword research
Identify the right keywords to target in your niche that drives sales and conversions for your website
Learn to align your content with the search intent of your potential customers
Estimate search volume and keyword competition (using these completely free tools)
Research and analyze keywords efficiently with paid tools
JUST AN ADVERTISEMENT
CONTINUE READING BELOW
Who is this Course for?
Whether you're a blogger, freelancer, solopreneur, business owner, or part of an agency, if your main goal is to reach the top of search engine rankings, especially on Google, and enjoy a steady stream of free organic website visitors, then this SEO training is custom-tailored for your needs.
My Review of this SEO Course
Well, I have been in this digital marketing field since 2017, and have learned many things about SEO.
As an SEO expert and digital marketer, I found this SEO course helpful for beginners, intermediates, and experts in some cases.
They have shared only six modules out of 12 till now and I have seen all of them and found that this is really a good course for beginners as the way of teaching by the tutor "Jack Cao" is very impressive and easy to understand.
So you can understand the aspects of SEO very easily and quickly.
I have learned some amazing new techniques of keyword research and was able to learn more about SEO, as well as how to target keywords with search intent.
The user interface is also simple you can just click on the list of content and watch the videos easily.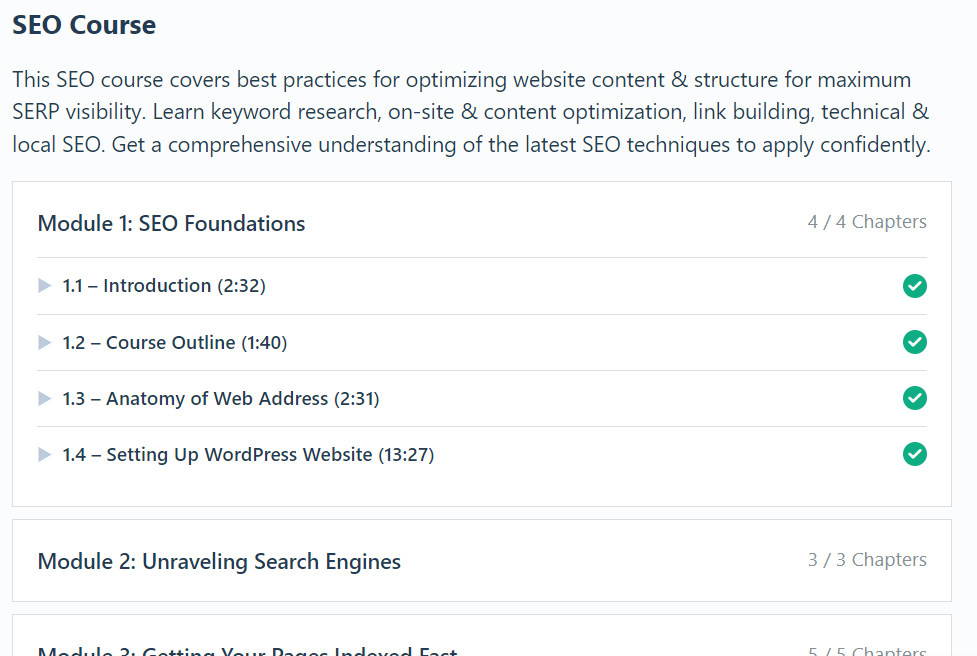 Conclusion
The RankMath SEO Course can be your roadmap to mastering the art of SEO and boosting your online presence. It's designed for both beginners and those looking to level up their SEO game.
While there are some learning curves, especially if you're new to SEO, the course's user-friendly approach helps make complex concepts more accessible. It's like having a friendly guide by your side to navigate the ever-evolving world of SEO.
The value for money is impressive, and when compared to other SEO courses, it often comes at an affordable price. But remember, SEO is an ongoing journey, and staying updated with the latest trends and algorithms is key.
And they have said that they will add at least one video every month in this course.
So, whether you're a blogger, business owner, or just someone passionate about making your website shine online, the RankMath SEO Course is worth exploring. It could be the key to taking your website to the next level in the digital world.