Creating a blog post outline before writing a blog post is one of the best ways to organize your thoughts and improve your content.
A good outline ensures your post flows logically, covers all key points, and provides value for your readers.
Fortunately, RankMath's new Content AI tool can automatically generate an optimized blog post outline for you in seconds.
In this article, we'll discuss the benefits of creating an outline, walk through how to use RankMath's outline generator and provide tips for refining your outline into a high-quality blog post. Let's get started!
Why Create a Blog Post Outline?
Taking the time to map out an outline prior to writing has numerous advantages:
Organize your Ideas Logically
An outline allows you to structure your points in a logical flow that makes sense. This creates a better experience for readers trying to digest your content. A solid outline prevents disjointed ideas and helps transition smoothly between topics.
Ensures You Cover All Key Points
The outlining process helps identify any knowledge gaps before you begin writing. This way you can fill in holes and research anything needed to cover the topic comprehensively. Readers will appreciate a post that provides complete information.
Improves Overall Structure and Flow
With an outline, you can step back and view the full picture to identify any structural issues with your post. You'll be able to spot redundant sections, move things around, and recognize where transitions are needed. The result is a cohesive piece.
Saves Time Writing
When you already know the topics and points you need to cover, the actual writing process goes much faster. You won't waste time figuring out what to include or get stuck with writer's block. The outline gives you a plan to follow.
JUST AN ADVERTISEMENT
CONTINUE READING BELOW
Results in Higher-Quality Content
All the previous benefits combined result in a more useful, engaging blog post. Taking the strategic approach of outlining always produces better content compared to writing on the fly without a roadmap.
Now that you're convinced outlining is worthwhile, let's look at how RankMath's AI tool makes it fast and easy.
Prerequisites
RankMath Plugin must be installed on your website
The RankMath plugin must be set up on your website
You get very few credits in the free version, so it is recommended to use the pro version of the RankMath SEO Plugin
Step-by-Step Guide: How to use Content AI Outline Generator
1. Navigate to your WordPress Admin Dashboard
2. Click "Rank Math SEO"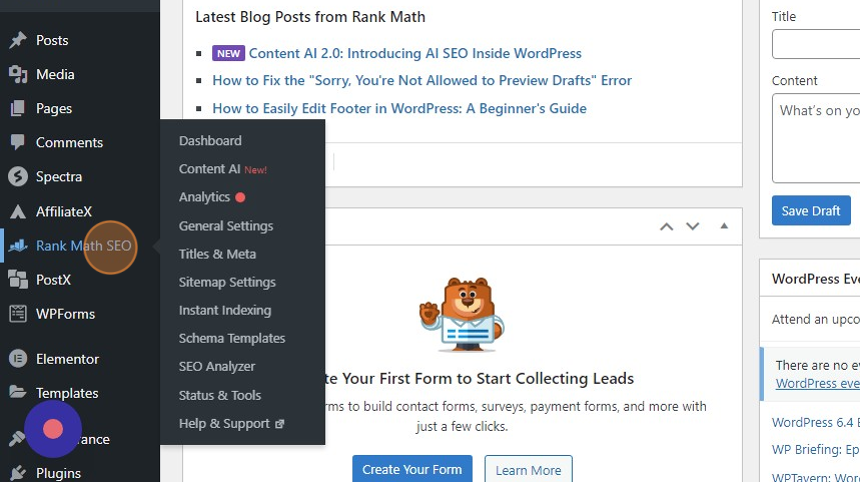 3. Turn on the Content AI Module from the RankMath Wizard Panel
4. Click "Content AI" from sidebar
5. Click "Content Editor"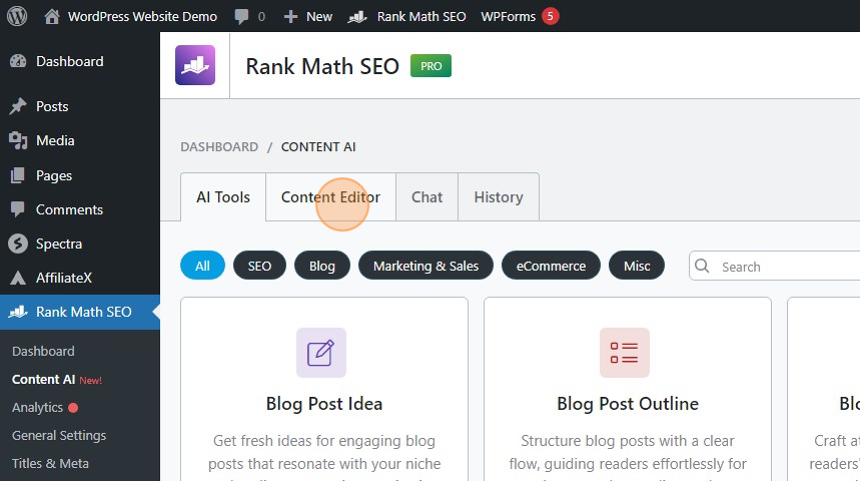 6. Click "AI Tools"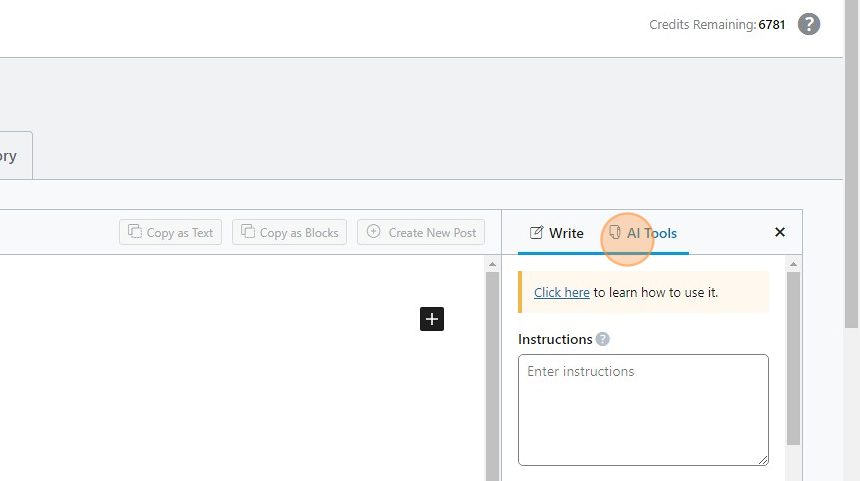 7. Click "Blog Post Outline"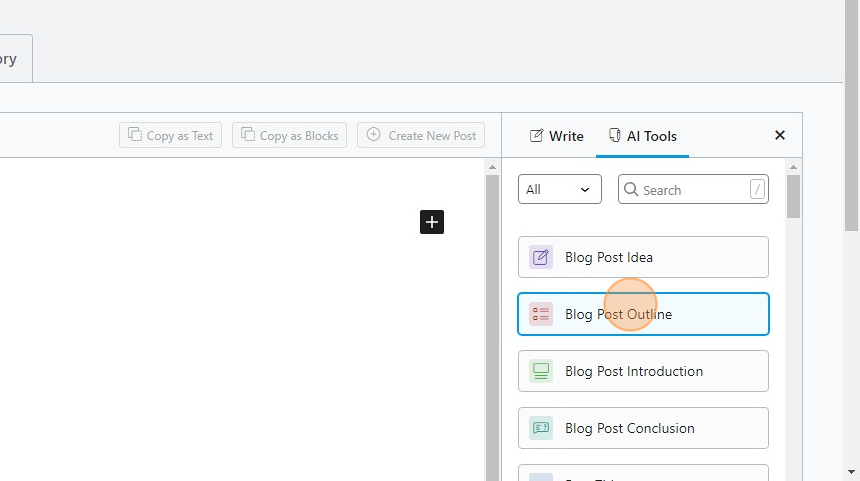 8. Enter your Article Idea in the "Topic" field.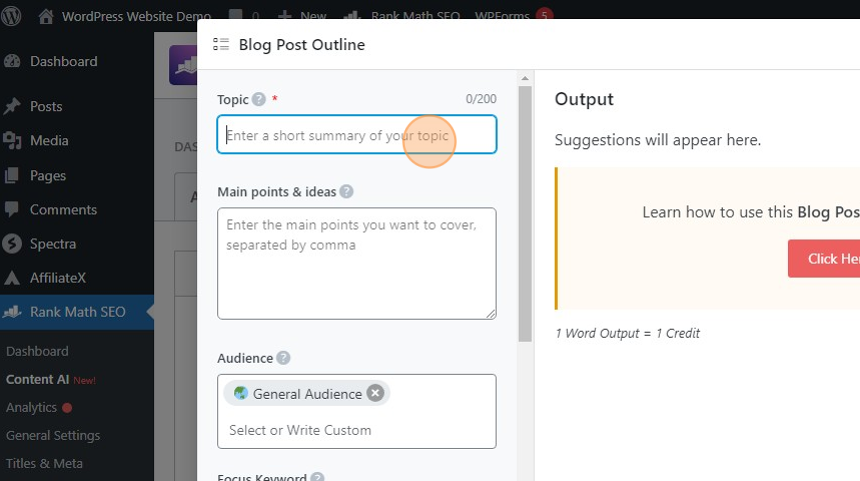 9. Enter the ideas of the article in the "Main points & ideas" field.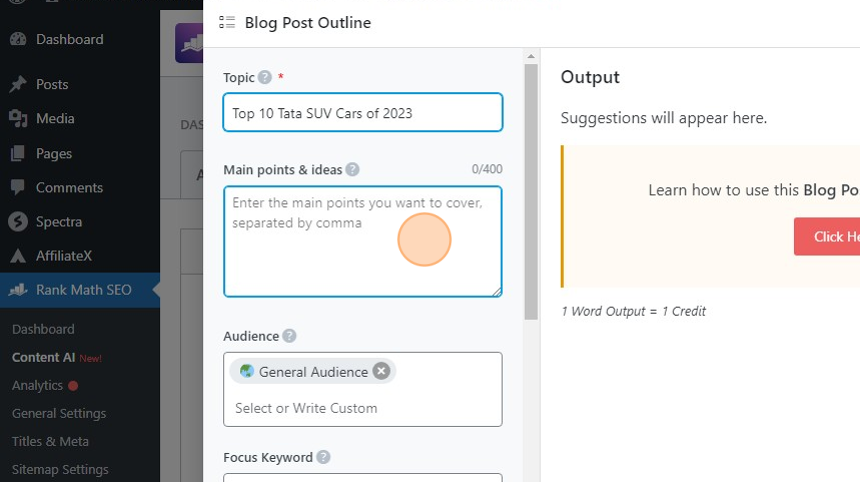 10. Select the audience of the article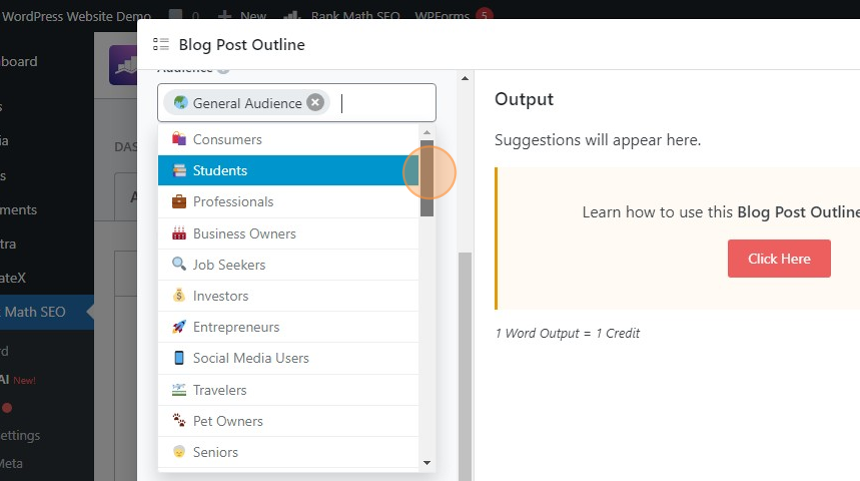 11. Enter your focus keyword in "Focus Keyword"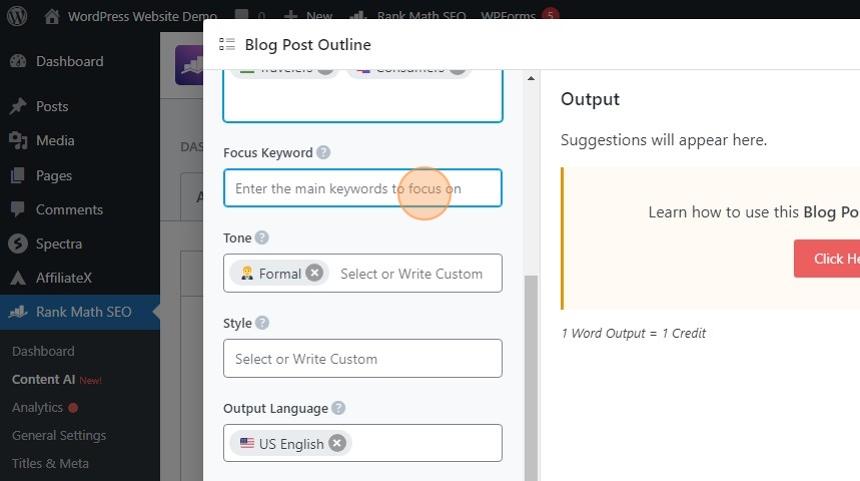 12. Select the Tone of the article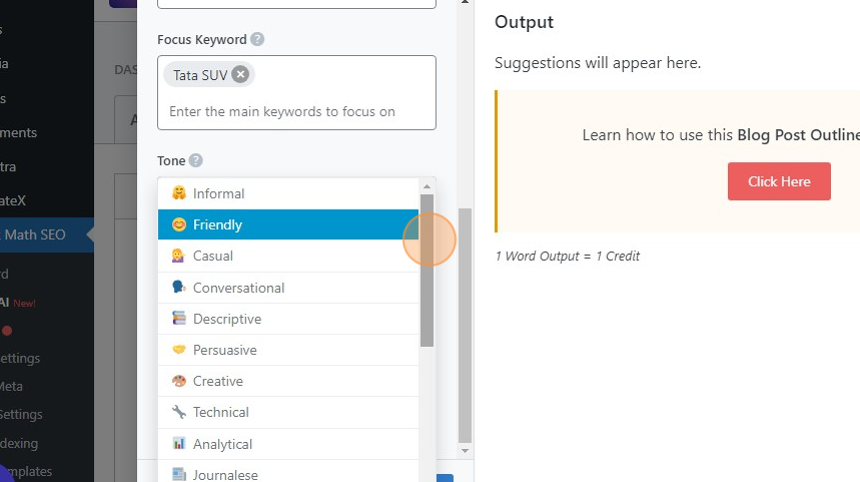 13. Select the Style of the article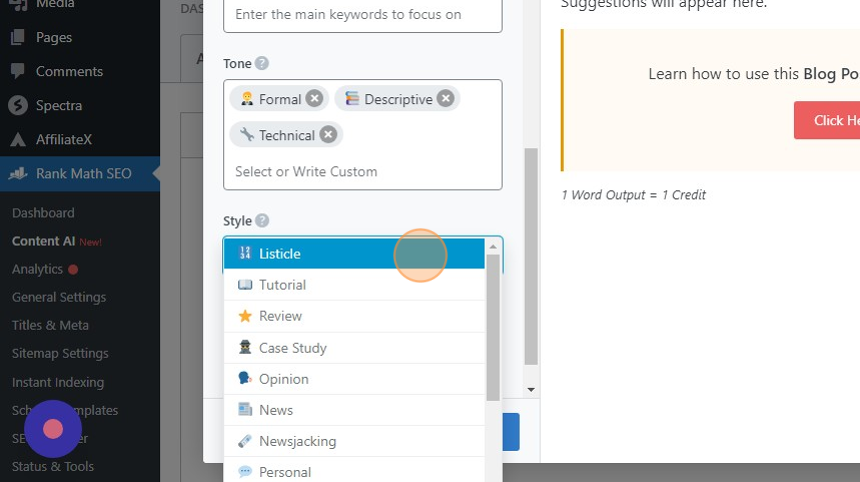 14. Select the Output Language of the article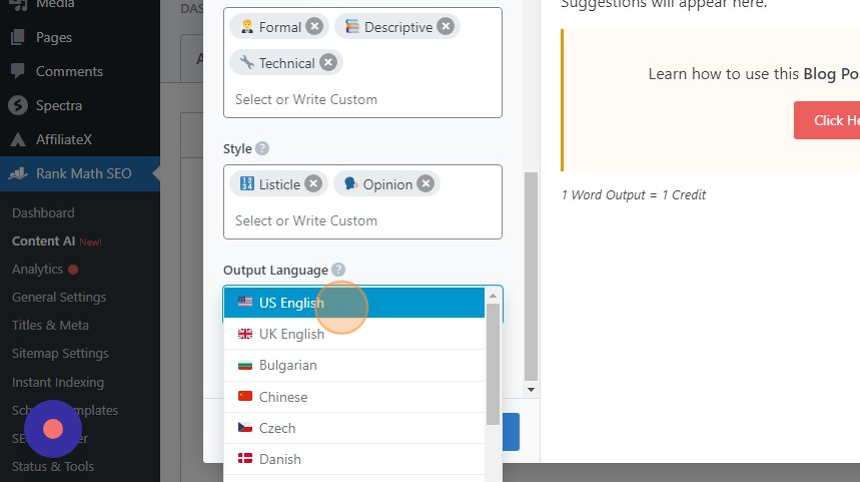 16. Select the No. of Outputs.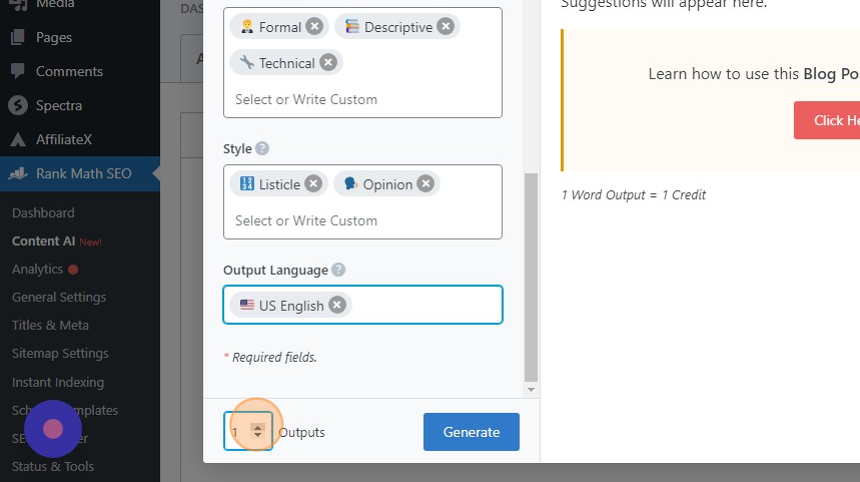 17. Click "Generate"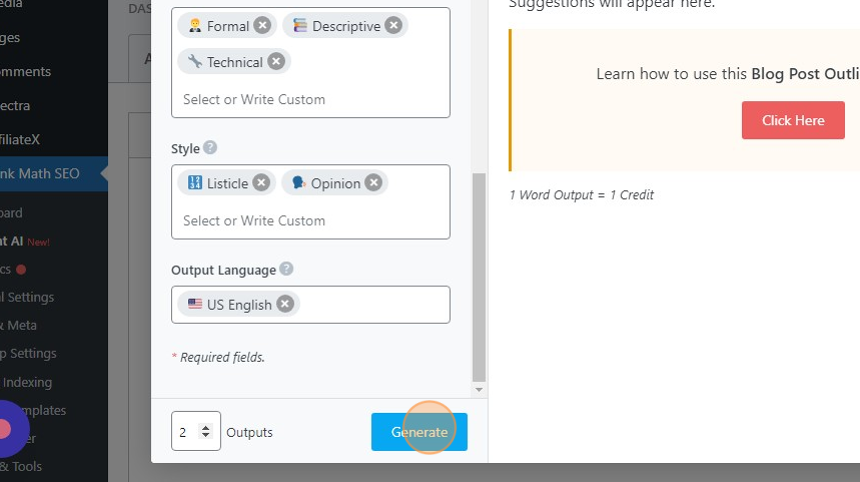 After the generation of your desired Outline.
18. Click here to copy the output.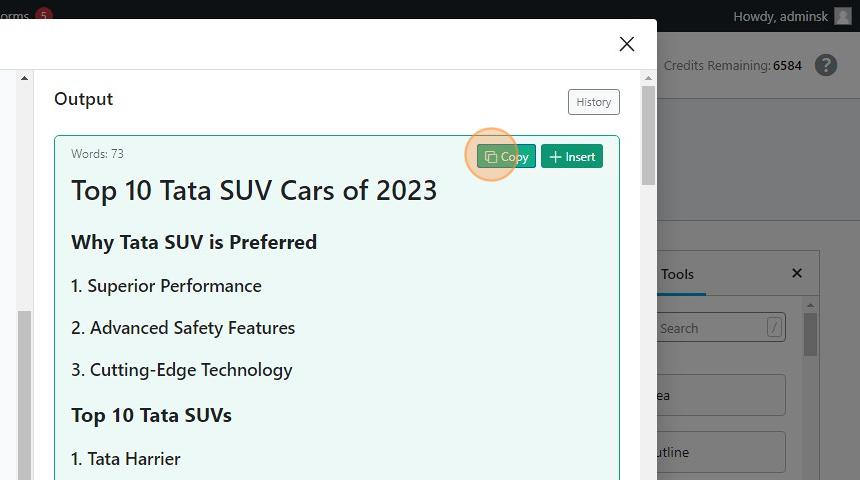 19. Click "Insert" to add it in your workspace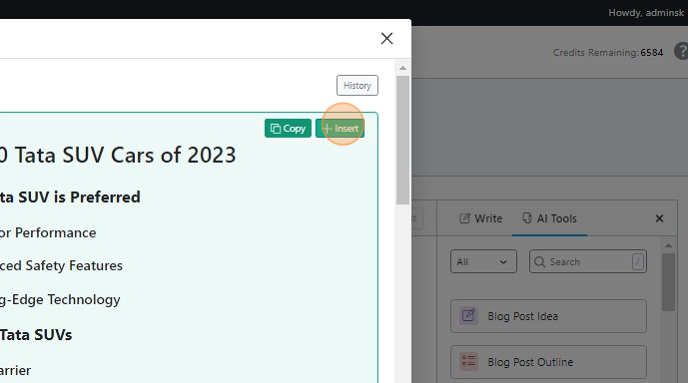 20. From the Workspace, click "Create New Post" to create a New Post
Optimizing and Finalizing Your Outline
RankMath's AI provides an excellent starting point, but you'll want to review and refine the outline before writing. Here are some tips:
Advertisement
Rearrange Points in a Logical Structure
Look at the flow of topics – does it progress in a way that makes sense? Move things around as needed. You may also combine related points under the same heading.
Add or Remove Ideas
If there are any ideas missing that need to be covered, add them where appropriate. On the flip side, remove any points that seem redundant or not essential to keep the outline focused.
Ensure It Answers Reader Questions
Review your outline from the reader's perspective. Does it address any questions they would have about the topic? If not, fill in the gaps.
Create Section Headings
Turn ideas into section headings that provide a logical structure. This forms the basis for H2 and H3 tags when writing the post.
Aim for Smooth Transitions Between Sections
Your transitions between topics are what give a post flow. Look at each section and consider how to transition readers between ideas. This helps when writing segues between paragraphs.
Once you're happy with the final outline, it's time to turn it into an amazing blog post!
Transforming Your Outline into a Blog Post
With your outline completed, writing the blog post itself will go much smoother. Here are some tips for expanding an outline into a full piece of content:
Use the Outline as a Writing Guide
Keep the outline open as you write so you can follow along with the structure. Start with the intro, move through each section, and end with the conclusion.
Expand Each Point into a Full Paragraph
Take the ideas and topics in each section and develop them into paragraphs with 3-5 sentences. Provide context, data, examples, and additional details.
Add Data, Examples, Expert Opinions
Support your points with stats, specific use cases, expert perspectives, or relevant studies. This helps validate what you're saying.
Insert Relevant Images, Graphics, Videos
Visual elements are crucial for breaking up walls of texts and engaging readers. Find creative ways to visualize the concepts covered.
Use Formatting Elements Like Headings, Lists, and Quotes
Format your post with H2/H3 tags for section headings, bullet/numbered lists for easy scanning, and quotes from influencers to build authority.
Link to External References
For any sources you cite, add hyperlinks so readers can dive deeper. This also improves authority by linking out to authority domains.
By following your outline, expanding on ideas, and adding compelling elements, you'll end up with an informative post ready for publishing in no time!
RankMath Content AI Pricing
Talking about RankMath Content AI pricing, the starter plan starts at $3.99 per month, renews at $4.99 per month, and you will get 5000 credits.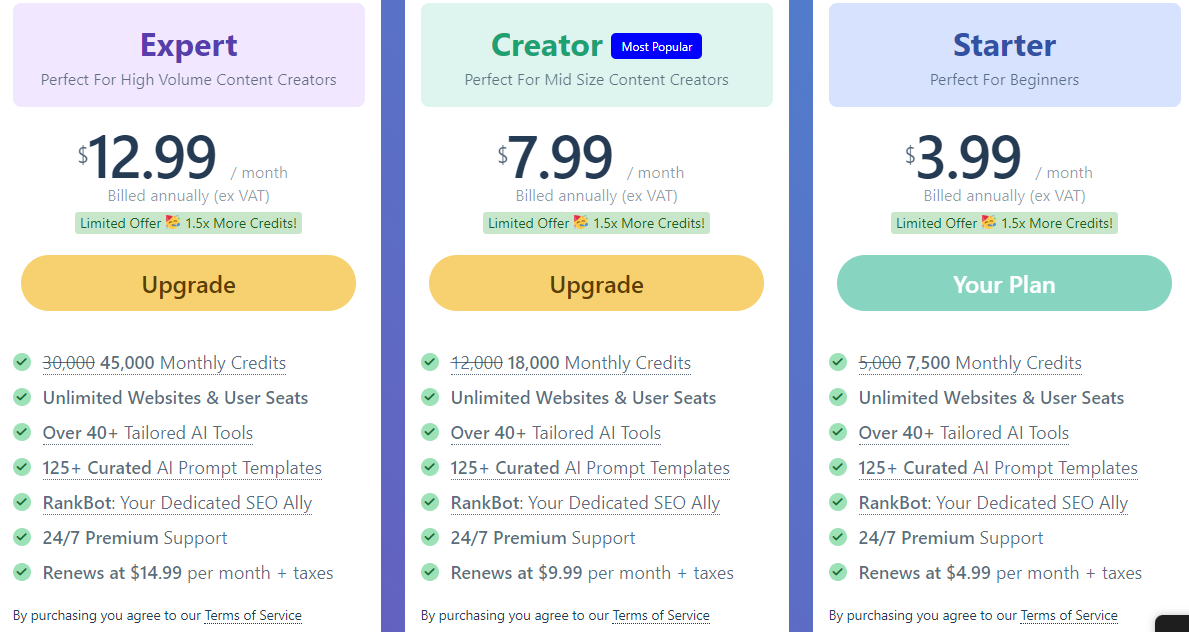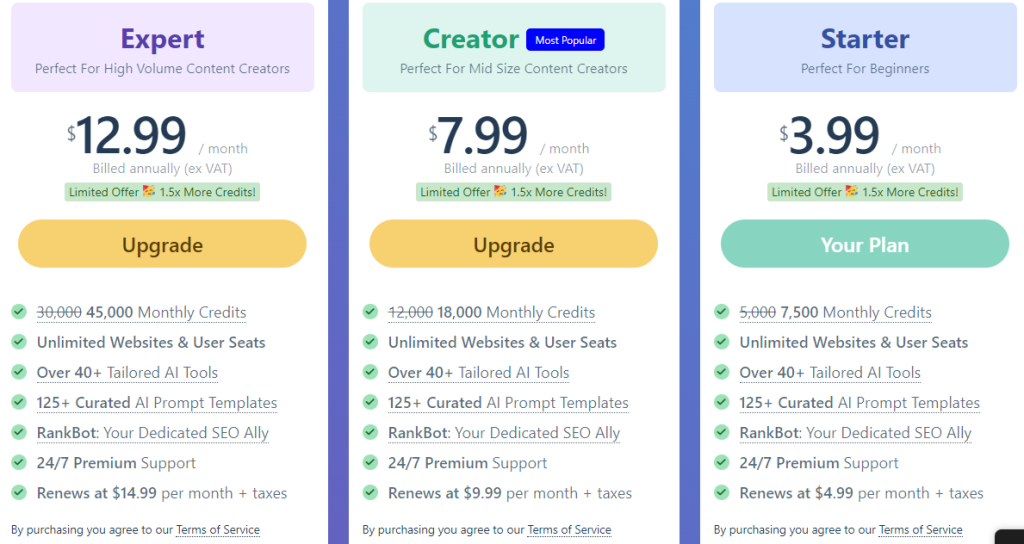 dits for a limited time period.
You can avail of this offer by clicking the button below.
The other two plans are Creator & Expert, pricing is $7.99 & $12.99, and renews at $9.99 & $14.99 per month respectively.
So you can check it out.
How to Get Content AI Credits for Free
Well Content AI tool is a paid tool, but right now RankMath is promoting their tool, so you can email them to get some free credits for testing purposes, or if you haven't updated your RankMath SEO plugin then do update it as you will get 2000 free Content AI credits.
After your credits expire and you are satisfied with the tools, you can upgrade to their premium plan easily.
Conclusion
Creating an outline using RankMath's AI outline generator is a great way to streamline your workflow and facilitate writing high-quality blog content. The main takeaways are:
Outlines help organize ideas logically, ensure you cover key points, and create an overall solid structure.
RankMath's tool makes it fast and simple to generate a custom outline in just minutes.
Tweak the outline to optimize the structure and flow before writing.
Use the outline as a blueprint when writing your draft, expanding each point into a full paragraph.
Supplement the content with data, visuals, and formatting for the best results.
There are a lot of AI tools available in RankMath's new Content AI 2.0 update, you can check it out by clicking here.