• Explanation Of This Bluehost Cashback Offer..
In this Bluehost Cashback Offer, you will get Flat (₹1,500 for India / £15 for United Kingdom / $20 for Rest of the World) cashback after your successful purchase of any web hosting from Bluehost.
Well, If you buy the Basic Bluehost Hosting plan from Bluehost for 1 year, you need to pay around ₹299 or £4.30 or $5.95 per month.
So, you will need to pay whole amount to Bluehost company.
But if you enroll in our Bluehost Cashback Offer, then you will get extra ₹1,500/- or £15 or $20 as Cashback on any hosting purchase, it doesn't matter you buy the hosting for 1, 2 or 3 years, you will definitely get the Cashback after your successful purchase.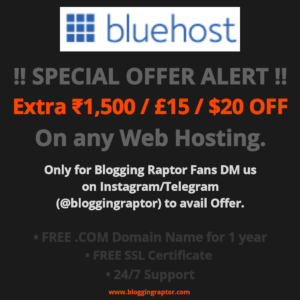 • How To Enroll This Offer?
It's very simple, when ever you are going to buy any Bluehost Web Hosting, you just need to contact us on Instagram/Telegran @bloggingraptor before you make and purchase. Our team will assist you what you need to do next.
NOTE: The offer is available for first time user only, who never ever used any product from Bluehost, if you already have bluehost account or you had previously used your Debit/Credit Card to make payment for any bluehost transaction, then the offer is not valid for you.
• How & When You Get CashBack
As Bluehost plans offer 30 days money back guarantee to their customers, that's why you need to wait for the successful purchase, if you cancel the Bluehost plan and get apply for money back, then you won't get anything.
But if you continue to use the service, then you will get the cashback after 60 days, as the commission send to us by Bluehost after 60 days of successful purchase.
• How You Will Receive The Cashback?
○ FOR PEOPLE, WHO LIVE IN INDIA –
Currently we only have below mentioned payout methods available.
– UPI (PayTM, Google Pay, PhonePe) (Recommended).
– Wallet Trasfer (PayTM, Google Pay, PhonePe)
– Direct Bank Transfer ( IMPS & NEFT)
– PayPal
○ FOR PEOPLE, WHO LIVE OUTSIDE INDIA –
Currently the only payout method for outside India is PayPal.

Contact Us on Instagram/Telegram @bloggingraptor more details and to avail this Cashback Offer.